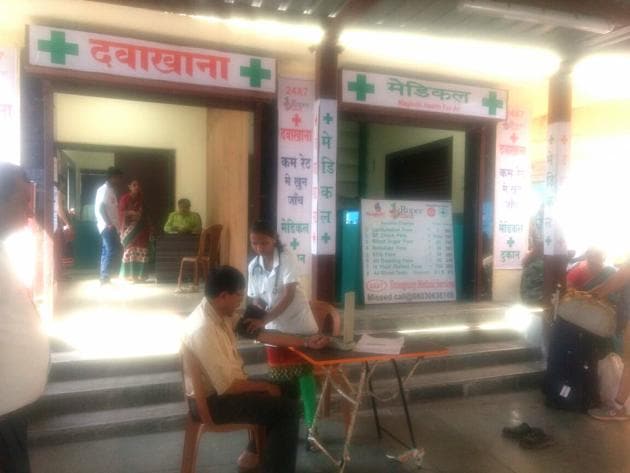 1 Rupee clinic at Thane railway station a boon for us, say commuters
The 24x7 clinic shifted to platform no. 2 last week so that commuters can access it more easily
Hindustan Times | By Ankita G Menon
, Mumbai
UPDATED ON FEB 09, 2018 04:06 PM IST
When 63-year-old Shankar Yemul hurt his nose after tripping on the foot over-bridge at Thane station, it was easy to get treated - other passengers just helped him to the 24x7 1 Rupee Clinic, situated at platform no. 2.
"I was rushing to catch my regular bus, and I tripped and hurt my nose. It was bleeding profusely, and I had hurt it badly. Other passengers helped by taking me to the clinic. The clinic was a boon," said Yemul, a resident of Gokul Nagar, Thane, who works as an account manager.
The 1 Rupee Clinic, operated by Magicdil in association with the Central Railway (CR), opened at Thane station four months ago, and just one week ago, it was shifted near the middle exit on platform no. 2 from its earlier location near the ticket counter, making it even more accessible for commuters.
"Ever since we shifted here, there has been a continuous flow of passengers," said Dr Himanshu Trivedi, in charge of the Thane clinic. "Many of them come to check their blood pressure. We have a counter to check BP outside the clinic itself, for the convenience of passengers. Every day around 300 people check their BP with us. We do it free of charge."
Besides checking BP and providing first aid, the clinic also offers complete blood tests as well as ECG, CT scan, X-ray, MRI and sonography, all at lower-than-market rates. "At other hospitals and clinics, you have to shell out Rs8,000 for an MRI, but here we do it for Rs3,000. The rates are similarly low for other services as well," said Trivedi.
The clinic is open 24 hours a day, have three doctors working in eight-hour shifts. "Earlier, i n case of an accident or injuries, we had to take the patient to a hospital, which was time-consuming and could impact the patient's life. But this clinic provides immediate help to passengers. We are able to offer aid within the Golden hour itself, without wasting precious time," said Dr Aparna Deodhar, deputy station manager, Thane.
In the past four months, around 200 passengers have registered for the clinic's annual membership plan. A Rs100 membership allows the member and his or her family avail free consultation, get 40% discount on blood tests and 10% discount on medicine costs.
Passengers give the initiative a thumbs up and say it's a boon for people who are always on the run. "I stay in Dombivli, but work in Thane. I have been taking medicines for high BP for the past few years. This clinic helps me check my BP regularly at a nominal rate as it is on my way to work. It saves me a lot of time and I can monitor my health," said Kalpita Choudhary, 31.
After a PIL was filed in Bombay high court on the issue of lack of prompt medical help in case of accidents on railway tracks, the court had, last year, ordered the Railways to set up emergency medical rooms (EMRs) at all stations in a phased manner. This clinic is one of the EMRs set up by CR.
Close