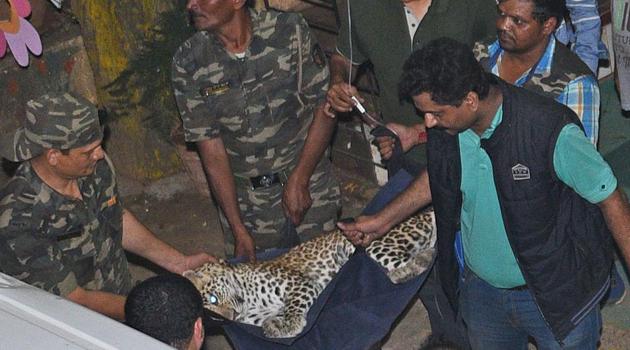 12 hours later, leopard at Mumbai's Sher-e-Punjab caught
Residents told HT the animal was first spotted at 6.30am near Sher-e-Punjab Gurudwara. "We informed the police once the animal moved towards the Sher-e-Punjab colony
UPDATED ON DEC 11, 2017 12:02 PM IST
Twelve hours of tension at Andheri's Sher-e-Punjab housing society, where a female leopard cub strayed on Sunday morning, ended in relief as the forest department, Mumbai police and NGOs managed to catch the big cat without any untoward incident.
Residents told HT the animal was first spotted at 6.30am near Sher-e-Punjab Gurudwara. "We informed the police once the animal moved towards the Sher-e-Punjab colony. Around 8am, the leopard was spotted near our garden. There was slight panic as a woman suffered minor injuries to her hand as people tried to move away from the area," said Rajkumar Javkar, resident of Sher-e-Punjab CHS. "From there, the leopard entered a playschool in building number 5, from where it was rescued in the evening."
The movement of the leopard was monitored through a CCTV camera in the playschool. The rescue team from Sanjay Gandhi National Park, which was stationed at Chalisgaon, rushed to Mumbai. The animal was tranquilized using darts around 6.30pm, and carefully transported to the SGNP in Borivli for further medical care.
"Leopards have never been spotted in this area. Even though this was a first for us, we were not afraid. We were asked to remain inside our homes, while the entire complex was cordoned off by the police and forest department. The leopard did not attack anyone," said Javkar.
"Large crowds had gathered at the site around 10am, but the authorities blocked the entry," Satish Som, another resident, said. "Clearing the crowds was a problem as people kept coming to the spot to catch a glimpse of the leopard."
According to the forest department, the leopard, a female cub, was a little over a year old and was under stress and dehydrated when she was found. "It is not clear where the animal could have come from. It seems to have travelled quite a lot from Aarey Colony across various housing societies and reached this spot," said Jitendra Ramgaokar, deputy conservator of forest, Thane forest range, adding that post tranqulisation, the animal was immediately put on fluid replenishment. "The condition of the leopard will be monitored now at SGNP."
"We knew the position of the animal, but as it was in a crowded place, and the structure was not very strong, the animal could easily come out in the open. However, all departments worked in tandem, maintained vigilance and secured the place with nets from all sides. Our aim was to ensure no harm to citizens or the animal," said Ramgaokar. "People listened to our instructions."
Experts said that Saturday's rescue operation stands as a model for the entire country for such cases. "This shows how different departments can coordinate together to ensure no harm comes to the animal or people. Such incidents will boost conservation efforts," said Vidya Venkatesh, wildlife conservationist and member, Mumbaiikars for SGNP.
Close