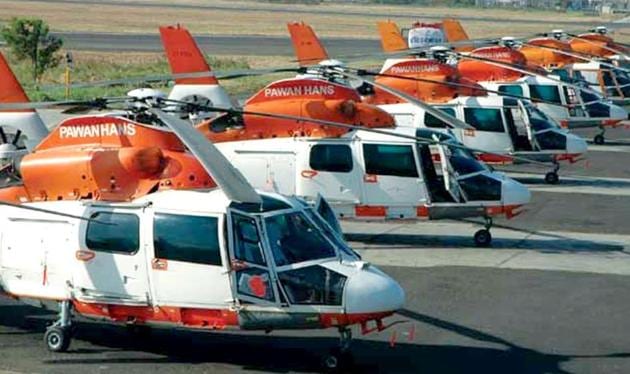 18 pilots quit Mumbai's Pawan Hans in 6 months; 8 more on their way out
Senior officials said the firm is short of pilots by 30%; company has allegedly not given pay hikes since 2007
Hindustan Times | By Neha LM Tripathi
, Mumbai
UPDATED ON MAY 07, 2018 11:00 AM IST
Even as the Centre floated fresh Expression of Interest for selling its stake in Pawan Hans after it failed to attract a single bidder during its previous attempt, it has been learnt that pilots are quitting the company en masse.
In the last six months, 18 pilots have quit, and eight more have intimated the company about their intention to quit. This had resulted in a shortage of pilots . Senior officials said the firm is falling short of pilots by 30%. The shortage has raised questions whether the company will be able to operate its first scheduled regional connectivity scheme (RCS) — to improve air connections to remote locations — flight from Manipur on May 15.
Officials said the primary reason for pilots quitting their job is owing to the failure of the management to meet their demands. The company has not increased ' salaries since 2007, thus forcing most pilots to look for better opportunities.
To overcome the manpower crunch, Pawan Hans signed a memorandum of understanding (MoU) with Indian Air Force (IAF) in April. Available documents reveal that IAF, in its internal communication, has asked its pilots to volunteer to work in Pawan Hans. Officials said the MoU was signed to meet increased quantum of flying and cockpit vacancies pursuant to the fleet-expansion plans of Pawan Hans.
A senior Pawan Hans official said the company has decided to hire air force pilots for higher salaries.
"Any pilot coming from the air force will be joining the company as a co-pilot and will be trained by us. But they will be paid more than double of what we are earning," said a senior pilot, adding that the firm had agreed to increase their salaries four years ago but never did .
"Only those who are not able to move to a private company are still associated with Pawan Hans. Mass resignations has left the company grappling with shortage of pilots," he added.
A senior Pawan Hans official confirmed that the company is facing a severe shortage of pilots. "Very few pilots are ready to work with the company owing to personal reasons and issues. Most have quit and are now earning much more than they made at Pawan Hans. Engineers too are facing similar issues."
Pawan Hans has been awarded various routes to operate under RCS. An official said, "The company is facing issues to allot crew for the RCS route from Manipur that is scheduled to commence on May 15."
Despite repeated attempts chairperson and managing director BP Sharma remained unavailable for comment.
Close