1983 World Cup victory was a film waiting to be made
Updated on Sep 28, 2017 11:54 PM IST
Several centuries, even a few double centuries have been scored in one-day cricket since, but Kapil Dev's 175 is the greatest ever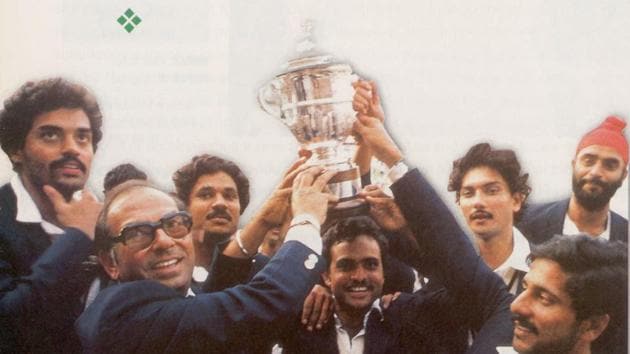 Hindustan Times |
, Mumbai
Ayaz Memon
Cricket nostalgia is an industry in itself, so it isn't unusual that India's spectacular triumph in the 1983 Prudential Cup would become the subject of a film. That it should have taken so long is the surprise. The 2011 World Cup victory has featured prominently in biopics on M S Dhoni and Sachin Tendulkar. But, where impact on national psyche is concerned, the 1983 win is the more significant.
Covering that tournament is among the high points of my career. Memories are still vivid and my pulse still races when I recall Kapil Dev's epic 175 not out at Turnbridge Wells, or the last West Indies wicket falling in the final.
However, my tour almost didn't happen. Sport then didn't enjoy the eminence it enjoys in the media today, there was no cost benefit for media houses and overseas assignments were rare. India's performance in the 1975 and 79 World Cups had been so poor that asking for such an assignment was to invite rebuke or ridicule, more likely both.
Looking back, I suppose divine forces intervened. It took weeks to muster up the courage to ask the editor of the sports magazine where I worked about covering the tournament. His stony silence was dispiriting. A few days later, however, sitting at my rickety desk, I was summoned by the editor. The management had agreed to a meagre allowance, he said.
Supplemented by personal savings, a hectic search for cheap tickets at bucket shops around Dhobi Talao followed. A friend in England agreed to let me stay with him, which made covering the World Cup a reality. I skipped India's first game at Old Trafford to watch England play New Zealand at the Oval. This was a fine match, but something extraordinary was happening in the other. Over two days, India beat West Indies. This was a major upset though nobody paid much attention then. But, I had learnt a couple of cardinal lessons in journalism: never digress from your primary assignment. And expect the unexpected.
I almost broke this covenant when India played Zimbabwe at Tunbridge Wells though. It looked an easy ride for India, and money saved on the trip would have been useful elsewhere. Fortunately, I goaded myself into going, buying an off-peak train ticket that saved a few quid. Seeing what transpired, I would never have forgiven myself for skipping it.
Several centuries, even a few double centuries have been scored in one-day cricket since, but I rate Kapil Dev's 175 as the greatest ever. For its sheer difficulty quotient, and the impact it had on the tournament, nothing else comes close. India's passage after that is too well documented to retell here. After Zimbabwe, India beat Australia, England, in the semis, and West Indies in the final in a stunning streak that left everybody bewildered.
Stiff upper-lipped stewards manning the Grace Gates at Lord's were even more incredulous. While going to collect the pass for the final, I heard one remark to his colleague, "So, we've got Gandhi coming to Lord's now!''
Richard Attenborough's movie had a huge impact but who was to know that a bunch of extraordinary cricketers from India, considered no-hopers, would be in the final. The side had been magically transmuted after the victory over Zimbabwe. On June 25, in the final, India defended a modest score to beat WI and turn the cricket world upside down. More than just details and performances, I imagine director Kabir Khan's challenge will be to capture the dynamics in the dressing room that made this possible.
What was the chemistry between players as the tournament wore on, leading to the dramatic rise in self-belief and ambition that was to that was to transform a country? At one level, beating West Indies was a magnificent sporting effort for its sheer unexpectedness. At another, this was a cathartic moment: in the history of cricket, as well as India. The passion ignited hasn't abated in the 34 years since. If anything, it's grown exponentially and shapes the destiny of the sport today. For legacy reasons, England may still be the 'home' of cricket. But India is its epicenter. And El Dorado!