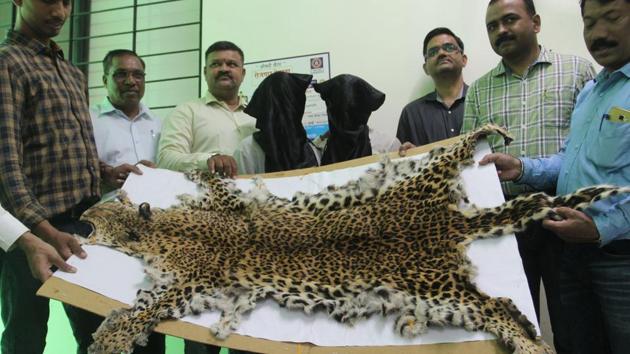 2 UP labourers arrested in Thane for possession of leopard skin
Police say the accused hunted the leopard in Satara and had brought the skin to Thane to sell it
PUBLISHED ON APR 17, 2018 12:20 AM IST
Two labourers have been were arrested for possession of leopard skin, which police said they had planned to sell for Rs10 lakh. Police said the accused had hunted the leopard in Satara district, skinned it and brought it to Thane to sell it.
A case under relevant sections of the Indian Penal Code (IPC) has been registered with the Rabodi police station.
The accused, identified as Kismatlal Marbi,30 and Korcha Marbi,25, hail from Mathura in Uttar Pradesh and are residents of Raigad.
S Bagul, assistant police inspector, Thane crime branch unit, said ," We got to know about a man coming to Rabodi area on Sunday and based on that we laid a trap on Sunday. When we caught the two accused we searched them and found leopard skin in their possession. The forest department was alerted and they too have confirmed that the skin is of a leopard".
A police officer said , "When we questioned the accused we found that two other people were involved in this racket. We will dispatch a team to Satara soon as the accused said they hunted the leopard in the jungle in Satara. We are questioning the accused about what they did with the leopard's teeth and other parts of its body."
Abhishek Trimukhe, deputy commissioner of police, Thane Crime, said, "We suspect that these two accused might have committed similar crimes earlier, but nothing has come up so far. The accused are in custody till April 19."
Pawan Sharma, honorary wildlife warden, Thane, said ," Leopards are one of the top protected species of our country and issues like hunting, poaching and dealing in their articles raise serious alarms for conservation efforts. The offenders in this case should be given maximum punishment, which must set an example for anyone who thinks wildlife trade can fetch fast and easy money."
Close