A division bench comprising Justice Pritinker Diwaker and Justice Ashutosh Srivastava further observed, "India is a country of great diversity. It is absolutely essential if we wish to keep our country united to have tolerance and respect for all communities and sects."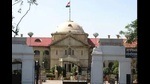 A division bench of chief justice Rajesh Bindal and justice Prakash Padia restored the plea on the ground that the application to restore it was filed without any delay. The plea has been listed for hearing on July 25.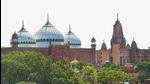 Rajnath Singh also trained guns on the Samajwadi Party and said it practices appeasement politics and looks for religion-based politics. The defence minister is in Mathura to campaign for the BJP for upcoming assembly polls.

By
hindustantimes.com
| Reported by Hemendra Chaturvedi | Written by Amit Chaturvedi
, Hindustan Times, New Delhi
The sacred city, where Lord Krishna is said to have been born, will go to the polls on February 10 in the first phase of the assembly election.

Mathura, raised by both the chief minister and his deputy in recent months, may be the next vehicle in the BJP's Hindutva project, a symbol that there is much left unfinished. The Ram temple in Ayodhya is well on its way to being built, Varanasi has been beautified, and Mathura is next.