Find Mumbai's roads unsafe? Don't worry, BMC will make 40 junctions pedestrian-friendly
Updated on Jun 09, 2017 09:42 AM IST
Mumbai city news: The Brihanmumbai Municipal Corporation (BMC) plans to get demarcated spaces for pedestrians at 40 junctions in the city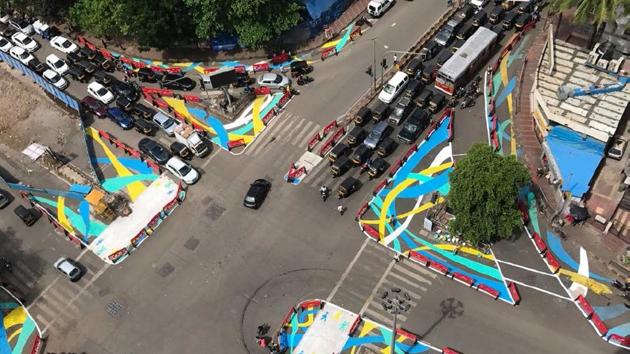 For those finding Mumbai's roads unsafe, here's some good news – over the next few months, 40 junctions will be made pedestrian-friendly.
From April 1 to May 1, the World Resources Institute demarcated space for vehicles and pedestrians using paint and barricades at HP junction near Turner Road in Bandra.
Soon, a New York-based urban designer carried out a similar experiment at Mith Chowki junction in Malad last month.
After the success of the two initiatives, the Brihanmumbai Municipal Corporation (BMC) plans to get demarcated spaces for pedestrians at 40 junctions in the city.
"The effort it takes to cross a street is much higher as compared to the effort it takes to apply brakes in the comfort of your car," said Skye Duncan, who transformed the Mith Chowki junction, and has worked with the New York City Department of City Planning for seven years prior to taking on as the director at Global Designing Cities Initiative at the National Association of City Transportation Officials funded by Bloomberg Philantrophies.
The plan is to provide proper refuge islands to pedestrians and make better use of unused space without altering the number of lanes for motorists.
After the Mith junction was upgraded, 78% users preferred the new junction and 64% users wanted it to become permanent.
The BMC will start work on making the recommended changes at HP junction in October, after which the work on 10 other junctions, including CST and Bhatia Baug, will start.
The MMRDA has constructed 36 skywalks in the city. When asked if pedestrians prefer underground subways over skywalks, Duncan said: "Neither. Pedestrians will not want to climb a flight of stairs and then walk down when they can simply walk to the other side. We need to provide them a safe passage."
Personalise your news feed. Follow trending topics