47% mango orchards are on wasteland in Maha: Study
The ICAR and IIHR's findings were published in the peer-reviewed journal, Current Science, in May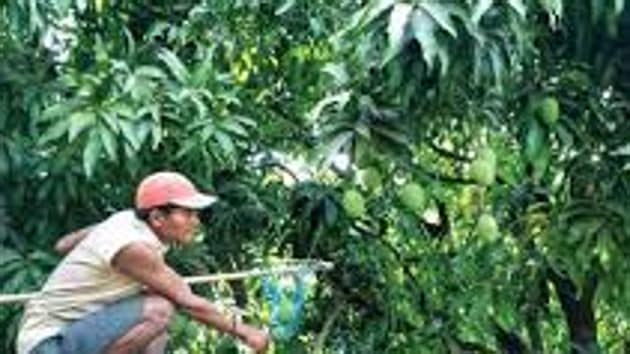 Updated on May 21, 2019 08:22 AM IST
The mango orchards of the Konkan belt in Maharashtra, Goa and Karnataka may be part of a solution to global heating and climate change. A study by the Indian Council of Agriculture Research (ICAR)-Indian Institute Horticultural Research (IIHR), Bengaluru, has found that 47% of these orchards in Maharashtra are growing on what was previously considered barren or wasteland.
"In the era of losing forests at a fast rate, these perennial fruit trees are a part of the solution to augment carbon emissions in the current climate change scenario," said Dr Ganeshamurthy, lead author of the paper and head, division of soil science and agricultural chemistry, IIHR.
The ICAR and IIHR's findings were published in the peer-reviewed journal, Current Science, in May. Maharashtra has the maximum area under mango cultivation and sequesters 9.743 million tonnes (mt) t of carbon, followed by Goa (0.448 mt) and Konkan Karnataka (0.128 mt), says the study.
Carbon sequestration is the process of long-term capture and storage of atmospheric carbon dioxide, which is the most common greenhouse gas. Concentration of carbon dioxide in the air traps heat in the atmosphere. Spread across 1,06,210 hectares along the coasts of Maharashtra, Goa and Karnataka, Alphonso mango orchards sequester 9.913 million mt of carbon every year from the air. Scientists said these findings are important because some of the orchards' area was formerly waste land or degraded lands of lateritic origin (soil rich in iron and aluminium). Conventionally, this type of soil is prone to erosion, but by cultivating mangoes, soil erosion has lessened and artificial forests are growing on denuded land.
In Maharashtra, 25% of the orchards have been grown on barren areas; 17% on wasteland, and 5% on degraded forests. Mango cultivation along Konkan Goa and Karnataka also occupy similar soil, the study said. "In the Konkan's Alphonso belt, particularly in Devgad, Ratnagiri, Sindhudurg in Maharashtra, we found that only deforested barren rocks are used for mango and not forest land. So by using this barren land for Alphonso mangoes, we are actually creating an artificial forest on denuded land saving the ecosystem and enhancing carbon sequestration," said Dr. Ganeshamurthy.
The study also offers an opportunity for local farmers to claim carbon credits. It also found that Alphonso mango orchards in Maharashtra, Goa and Karnataka absorb carbon dioxide equal to annual emissions from 2.1 million vehicles. Mango is a major fruit crop on the western coast and the Alphonso mango, also known as 'hapus' from Ratnagiri, Sindhudurg and adjoining areas of Konkan region, got the geographical indication (GI) tag - an exclusive label for products with a specific geographical origin - on October 5, 2018. The annual average mango production from the Konkan region is 6,00,000 tonnes, according the IIHR.
Close Story