Activists to go NGT way to put Mumbai's mangroves on the map
Updated on Oct 23, 2018 12:06 AM IST
Activists say most wetlands left without protection against development; state says resolution of images the only issue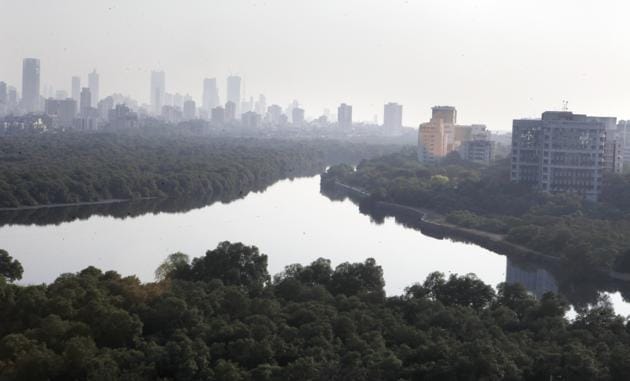 Alleging the recently published final coastal zone management plan (CZMP) maps for the city has left mangroves, wetlands, salt pans with no protection against development, activists plan to move the National Green Tribunal (NGT). The state has brushed off the concerns, terming it an issue with the resolution of the images.
After a delay of almost three years since the National Green Tribunal (NGT) first asked the state to develop CZMP maps for various locations along the Konkan coast, including Mumbai, the Maharashtra Coastal Zone Management Authority (MCZMA) published the final maps for Mumbai on their website earlier this month.
CZMP maps indicate the high tide line (extent till which coastal waters can reach the farthest on land) and hazard line (boundary identifying extent of shoreline changes over the years), and demarcate coastal regulatory zone (CRZ) areas. They are significant to prevent land grab by developers, said experts.
Under the CRZ norms, CRZ I includes ecologically sensitive areas such as mangroves, coral reefs and mudflats, where any kind of development is prohibited. CRZ II areas are developed land with infrastructure up to or close to the shoreline in designated urban areas, and CRZ III include undisturbed areas that are not substantially built up, and don't have infrastructure.
Groups namely Vanashakti and Conservation Action Trust (CAT) have claimed the maps show mangroves too in the CRZ III category, instead of CRZ I. Moreover, the CZMP map for the eastern suburbs, which has the maximum number of mangrove and wetland patches, has not been published yet, they alleged.
"The maps are either not legible, or are bad versions of other maps or previous drafts," said Debi Goenka, trustee, CAT. "There are no maps for the eastern suburbs that house Thane creek, Vikhroli and Ghatkopar mangroves. Gaothans or koliwadas. There is no report accompanying the map, and with poorly developed imagery, it is impossible to identify which plots are within CRZ areas or the 50-m buffer zone from mangroves."
"As the maps are erroneous, we have decided to challenge them in court," said Zaman Ali, environment lawyer. "A 500-acre plot in Goregaon (West), which used to be one of the largest wetland in this area owned by a private company, has been opened up for development."
"We are in the process of scanning and uploading maps of higher resolution, to clarify on site specific concerns and exact CRZ status. There is no need for a report. The maps for the eastern suburbs will be uploaded soon," said Anil Diggikar, principal secretary, state environment department, MCZMA chairman.
Salt pans on the landward side of the highway have been excluded from the CRZ, said environmentalists. " The map allows reclamation of coastal areas for the benefit of builders," said Stalin D, director, NGO Vanashakti.
Other environment protection groups said various locations such as Navy Nagar in Colaba, Raj Bhavan, Haji Ali, Worli Firing Range, Bandra Fort, Land's End in Bandra, Carter Road, Juhu Airport, Seven Bungalows Versova etc have all been recategorised from CRZ III to CRZ II changing protection status. "Specific mangrove patches in the Malad-Manori creek, and Borivli-Dahisar areas have now been identified as CRZ II, which means allowing these areas to be exploited. Even a site demarcated as 'National Mangrove Site' by the Centre in Gorai near Essel World has also been opened up as CRZ II," said Godfrey Pimenta, trustee, Watchdog Foundation.