Actor Ajaz Khan arrested by Navi Mumbai cops for possession of drugs, says he's being framed
Hindustan Times |
, Navi Mumbai
G Mohiuddin Jeddy
Oct 24, 2018 11:23 AM IST
Police say the drugs are worth Rs1 lakh
Actor Ajaz Khan, 37, was arrested by the Navi Mumbai crime branch late on Monday for the alleged possession of 3,4-methylenedioxy-metamphetamine (MDMA) — popularly known as ecstasy tablets, a banned narcotic — from a hotel in CBD Belapur.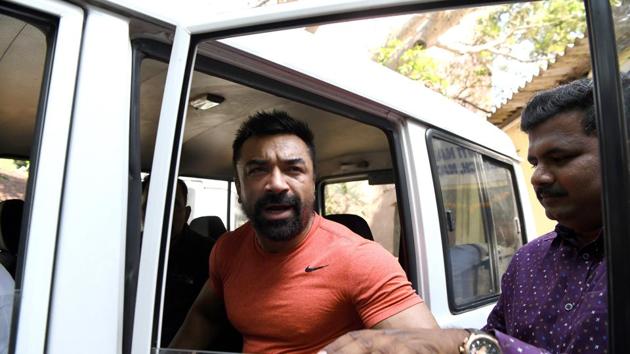 The former reality TV contestant, a resident of Yari Road, Versova, was produced in a Belapur court on Tuesday and has been remanded in police custody for two days. The actor told the court that the government was trying to frame him.
According to the deputy commissioner of police (crime) Tushar Doshi, "We received information that a person possessing narcotics would be at the hotel. Hence, shortly after midnight, we conducted a raid and found the drugs on Khan. While we had information that there was a larger quantity of drugs involved, we found only 8 tablets (2.3g) on him." According to the police, the drugs were worth Rs1 lakh and the police also seized two phones, collectively worth Rs1 lakh, from the actor.
Khan has been booked by the police under the Narcotic Drugs and Psychotropic Substances Act (NDPS). According to Doshi, "Based on the quantity found on him, he can be imprisoned for up to six months or fined up to Rs10,000 or both."
While being taken from the crime branch office to the CBD court, Khan said, "Saazish hai, phasaya jaa raha hai (It's a conspiracy, I am being framed)". Khan's lawyer Mahesh More Patil said, "Khan had come to the hotel to party with his friends. He said that two girls had asked for an autograph from him at the lobby. After he signed it, they gave him a packet as a gift. Soon, the police arrived at the spot, checked the packet he had and found the drugs in it."
Ajinkya Gavane, another lawyer of Khan, said, "Khan had no knowledge of the drugs and was surprised when the police said what it was. We will ask for CCTV footage, which will help support Khan's stance."