Although sightings increase at Karnala, small birds may be under threat
Every year, nature lovers and forest officials conduct the census on Buddha Purnima.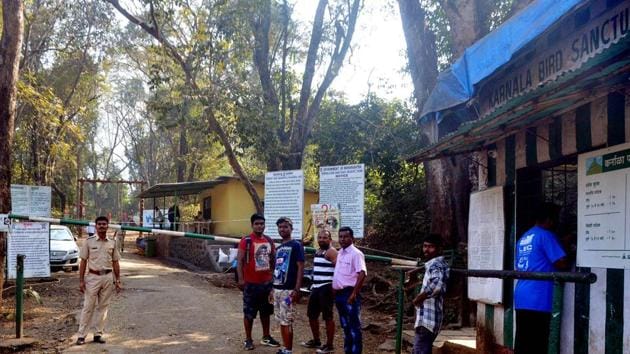 Updated on May 10, 2018 12:54 AM IST
Here's some mixed news for nature lovers and wildlife enthusiasts. Although there has been an increase in the number of birds and animals seen at the sanctuary, according to a recently conducted forest census, small and native birds are under threat.
More than 50 forest officials, nature lovers and others, armed with binoculars, flashlights and high- end cameras embarked on an animal and bird census between April 30 and May 1 at the sanctuary. According to the census, 42 species of birds and animals were reportedly seen this year as against 25 last year. In total, 181 birds and animals were seen in the sanctuary as against 150 in 2017.
However, according to locals and wildlife enthusiasts associated with the sanctuary, the number of species of native and small birds has been decreasing, primarily because of the rise in species of raptors in the region.
Every year, nature lovers and forest officials conduct the census on Buddha Purnima. Black Drongo, black kite, Asiatic Dder, Black-rumped Flameback, spotted deer, wild pig, parrot, hen, nightingale are among the many species of birds spotted during the count.
PP Chavan, forest official, Karnala Bird Sanctuary, said, "The census started on Monday evening and continues for 24 hours. We stationed ourselves mostly near water streams, holes and feeding sites. As summer is at its peak, we were sure that birds and animals would come to drink water, making it easier for us to spot them."
Udit Raj, 34, a Panvel resident,who participated in the census said, "It was a different experience. I followed the trails and marks of the presence of birds and was lucky to spot a woodpecker. I also noticed a few native crows and a cuckoo as well."
Participants were asked to be vigilant of animal and bird signs like paw marks, scratches on trees, etc. Although there are chances of duplication, the survey gives one a good idea about animal and birds that frequent the region, added Chavan. Vishal Sakpal,39, from Belapur said, "You need more patience while being a part of the census. Within a blink we may lose some important bird or animal which could be a frequent visitor in the area."
However, locals like Suresh Pradhan said said there has been a rise in the number of eagles, hawks and vultures in the area because of the garbage lying around on which these birds thrive. This has led to a decrease in the number of small birds which are moving away because of the threat from raptors. "There was a time when we could here continuous chirping of the birds. They also visited the village. Since the last few years, the chirping has decreased and instead of small birds, kites are seen everywhere. There is a huge heap of garbage on Mumbai-Goa Expressway which is feeding site for kites," said Pradhan, 49, a resident of the nearby Apta village
Hemant Nair, 45, a Kharghar resident who frequents Karnala said increasing tiemperature could be another reason for the low sightings of small birds. "I have been a part of the census for the past two years. Although there has been an increase in the sightings of few birds, there has been a sudden decrease in the sighting of native birds. Short indigenous birds have been replaced by migratory ones. The reason could be a change in habitat and increasing temperature."
Madhurita Gupta, a wildlife conservationist with Myvets NGO agreed saying the release of kites in the sanctuary is the reason why small birds feel threatened. "Small birds realize they are threatened, so they are shifting their base from Karnala slowly. Small birds don't nest in close vicinity of raptors," said Madhurita Gupta, wildlife conservationist with Myvets NGO.
Yuvraj Kaginkar, an avian specialist, said injured kites which were brought to the sanctuary for recuperation but were eventually released in Karnala by certain NGOs. "With raptors around, small birds tend to migrate to other safe areas. Moreover, urban kites mostly feed on easy food and garbage which is why their population has grown," he said. Payal Vaidya, 30, a Belapur resident and a photographer said the garbage in the area has turned the site in a feeding ground for raptors, which has put lives of small and native birds at a risk.
About Karnala Bird Sanctuary
150 species of native birds stay in the vicinity of the Karnala bird sanctuary
37 types of migratory birds visit the sanctuary
Migratory birds are spotted during winter
Animals like leopards, barking deer, African monkey, etc, are commonly seen.
1,211 sqkm area of sanctuary
It is largely popular for bird watching and trekking
9am to 6pm: the timing for visitors
Best time to visit
One should visit the sanctuary during light monsoons, winter or in the early summer months. October to March is the ideal time. Birds are not seen easily during heavy rains and summer heat.
Birds and animals spotted during the count
Quail
Green bea-eater
Jungle babbler
Indian roller or Neelkanth bird
Green pigeon
House crow
Indian Treepie
Little banded Goshawk
Kite
Woodpecker
Red-wattled lapwing
Red-wattled lapwing
Bat
Wild Boar
Topics
Close Story