Blind professor from Maharashtra among Helen Keller Award winners
Sanjeev Sonawane, a visually impaired educationist who has developed educational programmes to open up professional opportunities for hundreds of young blind people, was awarded with the Helen Keller Award 2016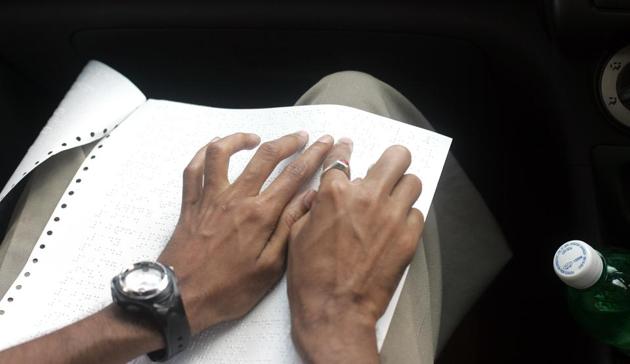 Updated on Dec 03, 2016 12:55 AM IST
Hindustan Times |
, Mumbai
Sadaguru Pandit
Sanjeev Sonawane, a visually impaired educationist who has developed educational programmes to open up professional opportunities for hundreds of young blind people, was awarded with the Helen Keller Award 2016. Sonawane, the only awardee from Maharashtra, received the award on Friday, a day before World Disability Day, in the "role model supporter of increased employment opportunities for disabled persons" category.
Sonawane is head of education and extension department at the Savitribai Phule Pune University. A researcher in the area of inclusive education and practices, he established the Advance Technology Blind Student's Learning Centre in 2008, which now serves as a support service unit for students with disabilities across more than 700 colleges and over 52 academic departments under the university.
"Enrolment of persons with disabilities in colleges has increased significantly because of the support of this Centre," said Javed Abidi, director of the National Centre for Promotion of Employment for Disabled People (NCPEDP) and Global Chair, Disabled People International, a global body that enjoys a consultative status with the United Nations.
Sonawane is one of the 12 individuals who were recognised for work done for the holistic development of the differently-abled.
"I have gone through his body of work which enabled over 300 students with disabilities, primarily blindness, to benefit at both academic and professional levels. More than 40 individuals are now working in the government and private sector at various levels and two as entrepreneurs. I am looking forward to meet him," said Abidi, talking about the reasons why Sonawne was selected.
Sonawane has developed a university education model to mainstream students with disabilities, focusing on development of professional opportunities so that more specially abled students can be employed through technological capability building. He has also supervised several projects related to training and research in inclusive education, academic and web accessibility, and provides support and guidance to many other academic institutions in India.
About the award
The 17th NCPEDP-Mindtree Helen Keller Awards 2016, instituted by the National Centre for Promotion of Employment for Disabled Persons (NCPEDP) recognises exceptional work done by corporates and individuals in the sector. The awards will be given away on 2nd December, 2016, at India International Centre, Delhi. There are a total of 12 awardees, including disabled individuals, supporters of increased employment opportunities for the disabled, and companies.
Helen Adams Keller born June 27, 1880, was an American author, political activist, and lecturer. She was the first deaf-blind person to earn a bachelor-of-arts degree and was an advocate of the fact that multiple disabilities is no a barrier against education and communication. She established herself as an idol to differently abled individuals.
READ MORE
Teachers ask Maharashtra state board for SSC, HSC question papers in Braille
-
Close Story
Personalise your news feed. Follow trending topics