Blocking sea water killed mangroves in Uran: Maha forest department
After the investigation, forest department sent details of the findings to Ramdas Koli , petitioner in the case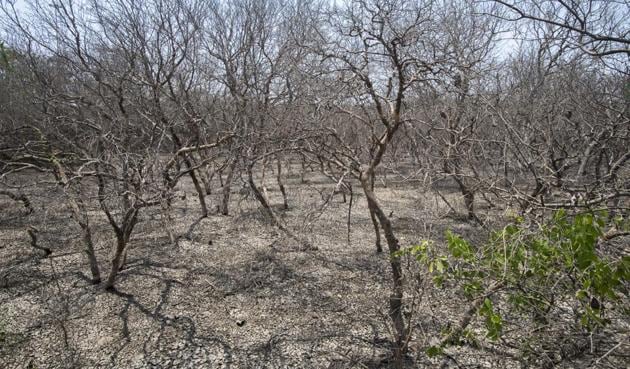 Published on Jun 16, 2018 12:04 AM IST
Preventing tidal water from entering mangroves destroyed 4,550 trees spread across 4.5 hectare plot at Jawaharlal Nehru Port Trust (JNPT), Navi Mumbai, revealed investigations by forest department. Officials visited Hovercraft Jetty (container terminal-4) area, 10 days after HT reported that large patches of mangrove forests dried after debris cut tide flow that nourish the trees. Mangrove forests are protected areas.
Fishermen from Uran, Hanuman Koliwada, Gavhan, and Belpada had complained about constructional activities by JNPT and said it destroying mangrove forests that are vital for the survival of fishing industry. They had earlier filed a petition against the destruction of fish breeding grounds and the matter is being heard by the Supreme Court (SC). The next hearing has been scheduled for July 23.
After the investigation, forest department sent details of the findings to Ramdas Koli (the petitioner).
"Our officialr found that high tide water, which used to reach a 4.5 hectare mangrove patch through two culverts constructed under a railway line has been prevented from entering mangroves. During the construction of a road for JNPT's container terminal-4 in the past two years, these culverts were blocked using rubble and tar. As a result, 4,550 mangrove trees dried," reads the letter by BD Gaikwad, range forest officer, Uran, a copy of which is available with HT.
N Vasudevan, additional principal chief conservator of forest, state mangrove cell, said, "JNPT has received permission from the union environment ministry for clearing 19 hectare of mangroves. However, we are checking whether mangroves have been destroyed beyond the permissible limit, which will be a violation of Bombay high court orders and Environment Protection Act, 1986. If that is the case, then action will be taken."
Koli said he will be presenting the letter during the next hearing in SC.
"The letter reveals details that are shocking and confirms our complaints to various authorities. Conserving mangroves are vital not only for protecting the coastal line, but for breeding of fish too. Owing to large-scale reclamation of land around Uran wetlands, flamingos have stopped visiting these sites," he added
BN Kumar, activist and Navi Mumbai resident, said, hundreds of acres of mangroves are being killed systematically for infrastructure development in Uran. "This mindless urbanisation has paralysed the lives of the local community."
Nandkumar Pawar, founder-director of Shree Ekavira Aai Pratishtan (SEAP), had filed complaints with the Konkan divisional commissioner, said NGT in 2015 had directed JNPT to restore all fishing sites where reclamation had taken place. Instead, destruction continues unabated.
JNPT officials maintained they had clearance from the Centre and refute allegation of violating environmental laws.
"As per directions of NGT and SC, all environmental clearances and permissions from different state agencies and Central government bodies were taken for the project," said a JNPT official. "Mangroves have been removed from 15 of 19 hectares, and we have permissions for those locations. In some areas, mangroves have begun rejuvenating as well. No mangroves have been destroyed outside the project-affected area."
HT had reported last week that the state environment department said they had issued a notice to JNPT asking them to explain the allegations that it has violated environmental laws by destroying mangrove forests in Uran taluka. The JNPT official said they had not received any notice so far.
Close Story