'Book fairies' are leaving novels all over Mumbai, have you found one yet?
Updated on Jul 12, 2017 06:27 PM IST
Mumbai city news: A group of Mumbaiites is hiding paperbacks around the city for bibliophiles to find, read and pass on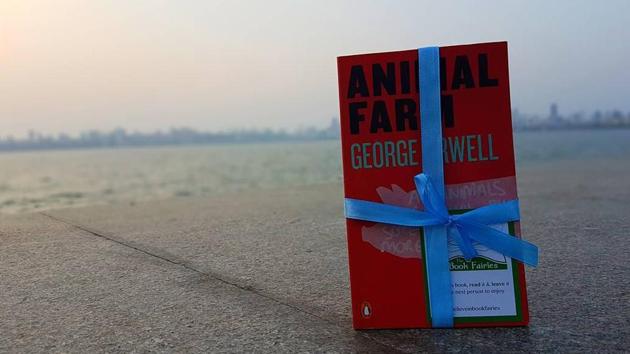 Stroll along Nariman Point with George Orwell. Let Devdutt Pattanaik keep you company on an international flight. Meet Antoine de Saint-Exupéry at a Starbucks outlet.
Does exploring the city accompanied by your favourite authors sound fun? It's now possible, thanks to a group of Mumbaiites hiding paperbacks around the city for bibliophiles to find, read and pass on.
They're part of an international project called 'the book fairies', which started in March and gained popularity after actor Emma Watson hid feminist books around New York City to celebrate International Women's Day.
She inspired SoBo resident Kadambari Mehta to join the movement, which now has 5,000 people sharing books in more than 100 countries, including cities such as Delhi and Bangalore.
"I had been following Watson's book club, 'Our Shared Shelf', for a while. That's how I heard about the book fairies and decided to launch the initiative in Mumbai," said Mehta.
Three months ago, she hid a copy of The Monuments Men at Mani Bhavan. "I wanted to hide books in places that captured the charm of our city," she said.
What followed were book drops at the National Centre for the Performing Arts, the David Sassoon Library and even a Mumbai-bound flight returning from Goa.
She's hidden 10 books so far, including one in Goa and one in Mahabaleshwar.
Malad resident Jaita Guha has hidden four, the first of which was JK Rowling's Harry Potter and the Cursed Child.
Both said there are no rules regarding the kind of books you can drop off. "I've shared books that I've read and loved. They need not be in pristine condition; the ones I dropped off had several of my favourite quotes underlined. You can also tuck personalised notes between the pages," said Mehta.
Though both women have stashed away only English books so far, Guha said she was contemplating dropping off a few Bengali books, but was unsure if they would find takers.
Mehta said a lot of people have asked her for Gujarati books, which she's asked her friends to donate. She also plans to drop off children's books near playschools in the city.
So how do you determine if the book you've spotted peeking out from behind a wall once belonged to Guha or Mehta?
They'll have a distinctive green-and-white sticker that says, "Take this book, read it, and leave it for the next person to enjoy".
If you're still unsure, post a photograph of the book with the hashtag #IbelieveinBookFairies so they can find you and confirm, or just head over to their Instagram accounts.
That's what biomedical engineer Deepti Dyondi did when she found Guha's copy of Memoirs of a Geisha in an Andheri-bound autorickshaw on June 28.
"I was returning from a yoga class in Malad when the auto driver told me someone had left their book on the backseat. I thought of checking whether it belonged to a local library so I could return it. Seeing the book fairies' sticker made me so happy, especially since my birthday was the previous day and this was an ideal gift. I saw Guha's photo on Instagram and thanked her," she said.
The official book fairies Mumbai Instagram account, which Mehta started a week ago, plans to put up posts leaving hints as to where the next drop will be.
Look out for books featuring Agatha Christie's famed detective Hercule Poirot as that's what Bhavika Govil — the newest member of the Mumbai group — plans to leave on a local train.
"Some of my favourite people are those who've recommended, lent or gifted me books. That's exactly what a book fairy does, which is why I was so enthusiastic about joining them," said the Bandra resident.
Govil has ordered her book fairy stickers from the project's official website, which sells a set of nine for Rs150. "The stickers should be here in a week, after which I plan to start hiding books in and around Bandra. I'm currently looking for books I can bear to part with. They should also be fun, easy to read and have a connection to the city," she said.
With such criteria, whatever book she hides first is sure to be a page-turner.
Personalise your news feed. Follow trending topics