Can't sleep because of Metro work, Maharashtra government should pay me Rs10,000 a day
Hindustan Times |
, Mumbai
Badri Chatterjee
Aug 11, 2017 05:31 PM IST
The matter is up for hearing at the HC on Friday.
8.30pm: After a hard day's work, Cuffe Parade residents Robin Jaisinghani, puts his daughters to sleep as they have to wake up early for school.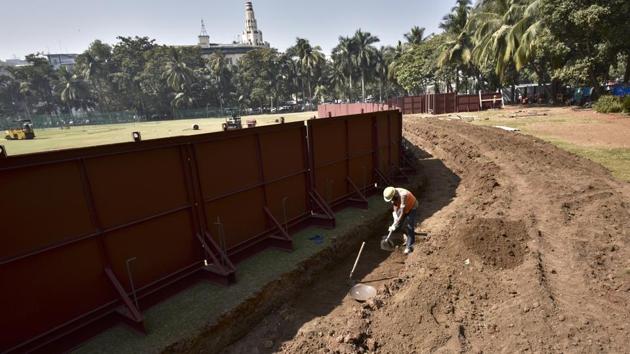 12.30am: Loud banging and clanging noises of excavator machines and labourers screaming are heard. The family is woken up with vibrations on their windows. The din seizes to end till early morning, leaving the daughters with a meagre three hours of sleep.
This has been a daily affair for the last eight months as Robin Jaisinghani and his family have been suffering from headaches; anxiety and doing daily activities have become difficult for them.
Irked by noise levels touching 100 decibels (dB) every night (as loud as a helicopter at 100 feet) from metro construction work at Cuffe Parade, Jaisinghani, 50, a resident of Hassa Mahal, Dalamal Park housing society Ltd, filed a petition at the Bombay High Court (HC) against Mumbai Metro Rail Corporation (MMRC) and state government, praying that each member in his family gets compensation of Rs 10,000 per day for the suffering and hardships caused to them.
"Even after keeping all the windows shut it is extremely difficult to carry out any normal activities such as reading the newspaper, watching TV or even having normal conservation. My daughters have been sleeping for just three hours every night for the past eight months," he told HT adding that his residence is 30-feet away from the construction site. "Even after filing almost 12 police complaints, there has been no action against MMRC or its contractor. It has become unbearable."
Read: Stop Mumbai Metro-3 work between 10pm and 6am, says Bombay HC
The matter is up for hearing at the HC on Friday. "MMRC is aware of the petition and their legal team is taking necessary action," said a spokesperson from MMRC.
The Western India Institute of Chartered Accountants, an educational institution is located less than 100 mts from the construction site. "The site is therefore falls within a silence zone, and as per noise rules, no construction activity is permitted beyond 10pm. However, this rule has been flouted," said Jaisinghani.
According to the petition, on February 8 this year, construction activity continued till 4am. The next day, Jaisinghani visited the contractor's site office and requested them to comply with noise rules. "A heated exchange took place and close to 20 people employed by the contractor surrounded and intimated me. I was told that I would be beaten up if I entered the site again," he said.
An elaborate Bombay HC order from August last year identified that no noise emitting equipment can be used in residential areas in the night time. The petitioner highlighted that the metro construction work had received a nod from the Maharashtra Coastal Zone Management Authority (MCZMA) with one of the conditions being no construction activities carried out during night time. "Despite these rules, noise levels exceed 90 to 100 dB at any point in time," he said.
Noise Pollution Control Rules prescribe maximum noise levels of 55 dB during the day and 45 dB at night time in a residential zone and 50 dB and 40 dB during the day and night at Silence Zones.
Meanwhile, an environment impact assessment (EIA) report prepared by MMRC prior to Metro 3 construction activities stated that noise from construction equipment at source will be 105-112 dB. "The overall noise during construction will be for short-term (for day time only) and can be mitigated," the report said, adding, "Exposure to noise may lead to complete hearing loss, tension, fatigue, fast pulse, dizziness & loss of balance, anger, irritation and in extreme case nervousness."
Main prayers of the petitioner
-The court to direct MMRC, their employees, servants, contractors and agents to cease and desist from carrying out any construction activity at Cuffe Parade
-To ensure noise caused during construction activity not to exceed safe limits under noise rules and no activities carried out during the night
-Compensate the petitioner, his wife and children with Rs 10,000 per day to each person for suffering and hardships caused to them
"There are no fixed hours during which construction activity is to be carried out. Sometimes construction activity is carried out till midnight and sometimes even later till the early hours of the morning, making it impossible to carry out any normal activity," said Robin Jaisinghani, Cuffe Parade resident and petitioner.