Centre approves construction of sewage treatment plants in coastal regulation zone in Mumbai
A final notification issued on May 3 said STPs can be built in the CRZ-I if the civic body has no alternate space to treat waste water.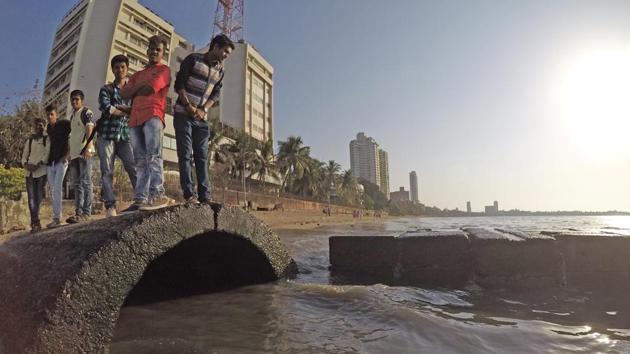 Published on May 15, 2017 12:05 AM IST
After giving the ambitious coastal road project its green nod last week, the Central government has now cleared the decks for construction of sewage treatment plants (STPs) in the coastal regulation zone (CRZ) I. This has paved the way for the civic body's Rs1,800-crore Malad STP, which was planned 10 years ago but had been on papers ever since.
A final notification issued on May 3 said STPs can be built in the CRZ-I if the civic body has no alternate space to treat waste water before discharging it in to the sea. As the construction of STPs will lead to mangrove destruction, the notification ordered that three times the destructed mangroves will have to be planted.
After drawing flak from the Maharashtra Pollution Control Board over disposing untreated sewage in the sea and polluting the coastal water, the civic body came up with an upgradation plan. Its ambitious Mumbai Sewage Disposal Project (MSDP) II included construction of seven STPs in the city. While six have got environment clearances, Malad STP was the one which was rejected by the centre's expert appraisal committee early last year citing reasons that the project was in CRZ I and no construction is allowed there.
It was after this rejection that the centre amended the environment protection rules and issued a draft notification allowing the construction of STPs in CRZ I, in last April and also invited suggestions and objections from the citizens.
Following this, a final notification was published early this month, which stated, "The construction of sewage treatment plants in CRZ-I shall be taken up by the municipal authorities in only exceptional circumstances, under which no alternate site is available to set up such facilities.This is subject to recommendations of the Coastal Zone Management Act and approval by the Centre. Three times the number of mangroves destroyed or cut during the construction shall be replanted."
The Malad STP will be constructed in an area of about 5,500 hectares near Malad creek and can generate treated water up to 847 million litres daily. This waste water treatment facility will cater to the waste water generated in the north end of the city and will also adhere to the MPCB norms. The civic body now awaits the Centre's expert appraisal committee's nod.
A senior civic official said, "We had submitted a proposal to the Centre as we expected the notification, and we believe we will get a positive reply from the expert appraisal committee too."
The project will be completed after five years from the time contractors are appointed to when the actual work orders are issued, said civic officials.
Close Story