Chembur, Deonar bear the brunt of city's air-pollution problems: Survey
Hindustan Times |
, Mumbai
Badri Chatterjee and Sadaguru Pandit
Oct 16, 2016 10:17 PM IST
The report highlighted a number of preventive measures for residents living close to dumping grounds
Almost half the population of Chembur and Deonar suffers from air pollution-induced health ailments, a survey found.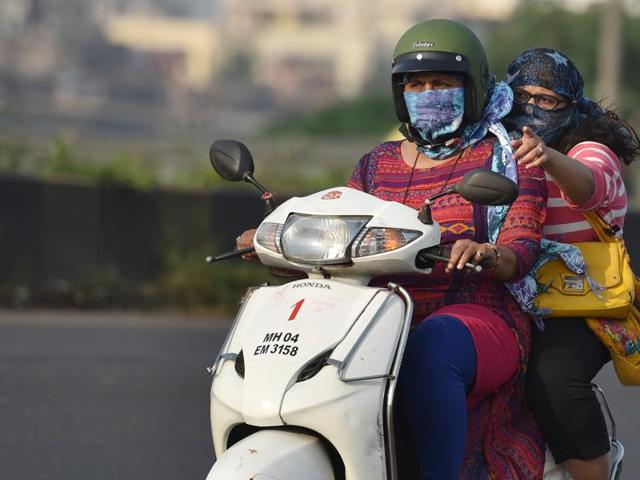 The study stated that of the 406 residents surveyed at Mahulgaon in Chembur, 46.7% were unhealthy. At Bainganwadi in Deonar, more than four of 10 respondents had respiratory problems.
As a part of the Environment Status Report from the Brihanmumbai Municipal Corporation (BMC), the Environmental Pollution Research Centre (EPRC) of KEM Hospital carried out a respiratory morbidity survey of 2,483 patients across the city between 2015 -16, mostly focusing on workplaces and residential areas.
Pollution levels in the city soared during the Deonar dumping ground fires in February and March. "The study published is the beginning of a comprehensive research. We will monitor vulnerable areas from now on," said Athavle.
The EPRC team conducted the survey in February, a month after the fire. The study found that more than one-fourth respondents at Neelkanth Gardens complained of choking, 26.2% were coughing and 17.8% had breathlessness, 57.9% people had eye-irritation and 73.8% were perturbed by the strong smell in the area.
At Kamla Raman Nagar and Rafiq Nagar in Bainganwadi, residents had repeated complaints of choking. While 33.7% suffered from cough, 23.3% complained of breathlessness and 48.8% had eye -irritation.
The report highlighted a number of preventive measures for residents living close to dumping grounds. "There is an immediate requirement for environmental engineering control measures to prevent landfill site-related pollution exposure. This, combined with health education and awareness regarding prevention and early diagnosis of asthma is needed," the report recommended.
HT had reported on March 23 that doctors from areas near the Deonar landfill had witnessed a 25% rise in respiratory ailments after the fire.
Swami Kandaswami, 55, a labourer and odd job technician from Ghatkopar, on his visit to Deonar to repair a water tanker earlier this year, fell unconscious, allegedly due to inhaling toxic fumes emanating from the dump. "The fumes made me extremely nauseous. People in the area told me they face this issue all the time. It was a bad experience," he said.
Doctors from Sion Hospital treating Kandaswami said that while they could not conclusively establish whether his condition was entirely caused by a gas, his prevailing heart condition was certainly aggravated after inhaling toxic fumes. "He was suffering from a heart condition, in which the blood supply to the brain is not normal and it differs depending upon the exertion of the body," said a doctor from the hospital.
Doctors said pollutants from the dumping ground, especially particulate matter — small pollutants that can easily enter our lungs, leading to ailments — is one of the major issues that reduces the ability of the lungs to protect itself from microorganisms.
"Cilia (hair-like projections) move microorganisms and harmful particles up and out of the airways to protect the lungs. However, they are killed due to particulate matter. Once this defence mechanism collapses, the particles enter the lungs and result in multiple pulmonary issues such as chronic bronchitis — the most common disorder — respiratory tract disorders, tuberculosis, cardiac issues and other chronic diseases," said Dr Rajendra Nanaware, senior pulmonologist and medical superintendent, Sewri TB Hospital.
Case Studies
Impact of Deonar fire: Did not leave his house for four days.
Chembur resident Atul Deshpande, 76, said he had not left his house for four days during the Deonar dumping ground fire, as he suffers from allergic rhinitis. "Whenever there is still excess smoke in the air, I start coughing and sneezing. I am forced to take medicines and use a nebuliser twice a day. While it has been better during the monsoon, the air around Deonar still makes it difficult for me to take long walks during the evenings," he said.
RCF colony chokes on toxic fumes
Residents of RCF colony in Chembur said that over the past year, they have been waking up to the nauseating smell of toxic gases daily. "Chemical waste dumped in the nearby nullahs is also burnt twice a day opposite our colony, near the Eastern Freeway. However, no action has been taken by the authorities," a resident said.