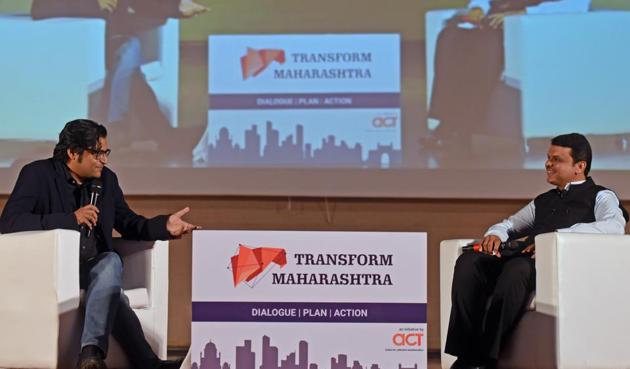 CM invites IIT-B youth to 'Transform Maharashtra'
Fadnavis was interviewed by journalist Arnab Goswami in a one-on-one discussion
PUBLISHED ON DEC 26, 2016 11:49 PM IST
Chief minister Devendra Fadnavis invited youth form across the country to join the government and help build a better future for the state and country. Speaking at the Indian Institute of Technology-Bombay (IIT-B) on Monday — as part of their annual cultural fest, Mood Indigo — Fadnavis launched the 'Transform Maharashtra' website on campus, aimed at engaging the youth in governance.
The IIT-B campus, which is otherwise crowded during the fest, was deserted as all roads led straight to the convocation hall, where Fadnavis was interviewed by journalist Arnab Goswami in a one-on-one discussion. Students were excited about the opportunity to question the CM themselves.
While the discussion topics ranged from demonetisation to the country's growth, Fadnavis invited students to join the government and share ideas to help the state towards a better future. Students, however, questioned Fadnavis on the lack of competent job offers offered by the central government. "Most IITians end up opting for jobs abroad because the offers made by the government don't match the offers from other firms. While we would love to help run the country, we are falling short of viable options," said a student. Fadnavis immediately offered her a job in the state government.
"It is good to see such bright minds wanting to contribute. We have realised that the youth come up with good ideas and also show a keen interest in working with the government. We will make sure to participate on Day 1 of placements at your institute," said the CM. He added that as part of Transform Maharashtra, ideas shared by the youth will not only be selected from lakhs of students from more than 500 institutes in the state, but also implemented if found suitable for the growth of the state and country.
Read
I am working overtime as home minister: Fadnavis
Mumbai needs more and better ideas from Fadnavis and Uddhav
Sona Mohapatra slams 'sexist' IIT Bombay for humiliating caveat
Close