Coastal road back on track: Mumbai civic body resumes work after SC reprieve
Apex court modifies HC order, allows contractors to proceed with works already commenced, but says no to new work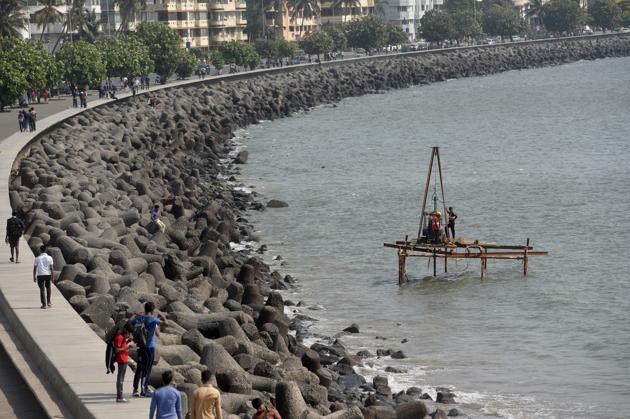 Published on May 06, 2019 11:27 PM IST
Hours after the Supreme Court (SC) on Monday lifted the status quo on construction of the coastal road project worth ₹ 12,000 crore, the Brihanmumbai Municipal Corporation (BMC) started piling work at Amarson Garden. The SC modified a Bombay high court (HC) order from April and allowed contractors to proceed with works that have already commenced, but directed that there should be no new work in any new area.
The SC on Monday said that the contractors and the BMC may complete work on the coastal road project that has already commenced "at their own risk". Mohan Machiwala, chief engineer for the coastal road project, said, "We will follow what the court orders state and work will be carried out according to that."
Two PILs were filed by activists and Society for Improvement of Greenery and Nature , an NGO, saying the project would have an adverse effect upon marine ecology in those sections of the city coastline.
In April, the HC heard petitions against the cutting of trees at Amarson Garden at Bhulabhai Desai Road and on the lack of environment clearance for the project. The BMC was stopped from carrying out further work till April 23. Following this, the BMC turned to the SC, seeking permission to continue work.
In light of the SC's modification of the HC order, activists said the civic body cannot reclaim any further land for the project. BMC officials say they will continue with the existing work. Activist Zoru Bhathena, who is one of the petitioners challenging the coastal road project, said, "The order is very clear. The BMC cannot proceed with the reclamation of land which involves dumping debris into the sea. If we find out that the contractors have breached the court order, we will approach the apex court." The BMC plans to reclaim 90 hectares from the sea to build amenities like open spaces and parking lots.
The ambitious 29.2 km-long coastal road will connect south Mumbai to the western, coastal suburbs, using a combination of tunnels, roads on reclaimed land and elevated roads. As per the BMC's plans, it will start from Princess Street Flyover, Marine Lines to Kandivli. It will have eight lanes, with two dedicated bus lanes.
The HC is expected to hear the PILs challenging the coastal road project in June.
Close Story
Personalise your news feed. Follow trending topics