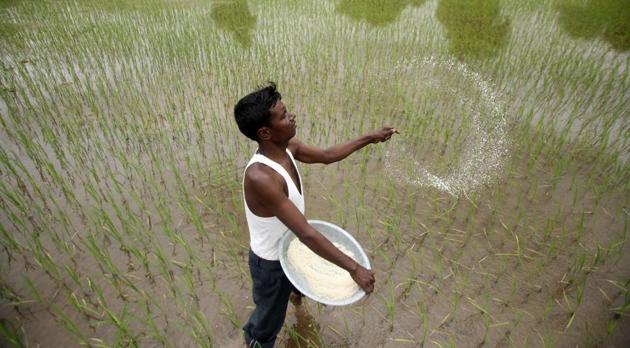 Dry spell takes toll on 20% cultivated land across Maharashtra; farmers forced to resow
Mumbai city news: Government reports state farmers cultivating soyabean, paddy and cotton in Akola, Amravati, Washim, Hingoli, Jalna and parts of Sidhudurg are the worst hit
Hindustan Times | By Surendra Gangan
, Mumbai
UPDATED ON JUL 11, 2017 12:34 PM IST
The ongoing dry spell may force farmers to resow seeds on nearly 17 lakh hectares [20%] of land.
The state has 139.64 lakh hectares of arable land, of which farmers have already sown seeds on 84.18 lakh hectares [60%].
The farmers, who are already reeling under the burden of existing loans, said they would now be forced to borrow more money to buy new seeds and fertilisers.
Many said the first batch has been ruined by the ongoing dry spell.
As per the weekly reports received by the state government, farmers from various parts of Vidarbha, Marathwada and Konkan have started resowing.
The reports state that farmers cultivating soyabean, paddy and cotton in Akola, Amravati, Washim, Hingoli, Jalna and parts of Sidhudurg are the worst hit owing to the rainfall deficit.
While Gondia has received less than 50% of its average rainfall so far and is facing a crisis, nine other districts including Jalgaon, Kolhapur, Yavatmal, Amravati and Bhandara have received rainfall between 50% to 75% of their averages.
Some parts of these districts have recorded rainfall less than the average for their respective districts.
"Resowing cotton costs at least Rs4,000 per acre. This has hit marginal farmers the most. The expected benefits from the promised loan waiver have vanished because of the resowing. It will also affect the productivity of various crops and will lead to a double loss.Since the loss owing to resowing is not covered in the insurance scheme introduced for farmers, those investing in buying new seeds and fertilisers will have to bear the brunt," said activist Vijay Jawandhia.
Besides resowing, the dry spell has delayed sowing of crops that are cultivated after the monsoon sets in.
Chief minister Devendra Fadnavis had appealed to the farmers to delay the sowing until the agriculture department issues its next advisory.
"The break in the monsoon has made conditions unfavourable for sowing," he said.
The government has announced it will provide seeds to farmers in areas affected under the dry spell.
It has asked agriculture officials to visit areas where resowing is being undertaken and conduct panchnamas so that farmers are provided seeds and compensation.
"More than 15% of the sown area has been affected and the percentage is likely to go up if the dry spell continues. We have kept stock seeds ready for distribution among farmers," agriculture minister Pandurang Fundkar told HT.
Close