Early bone marrow surgery is best for children with thalassemia: doctors
Experts said the high rate of intra-caste marriages in India is why parents turn out to be perfect matches for their children.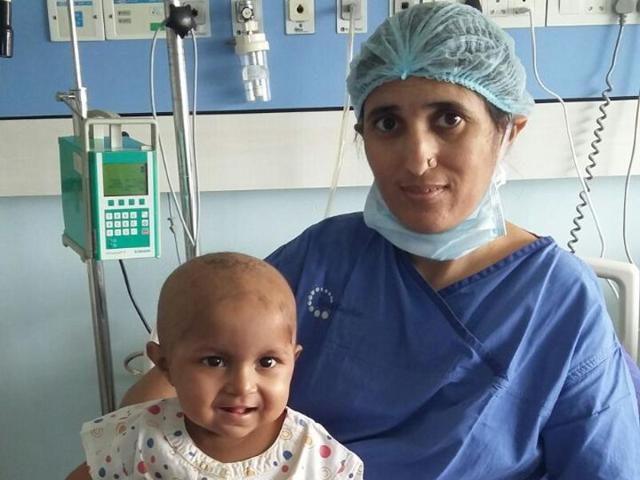 Updated on Aug 17, 2016 06:12 PM IST
Hindustan Times | By Aayushi Pratap
, Mumbai
After a fourteen-month-old child with thalassemia underwent a bone-marrow transplant at an Andheri hospital, doctors said children should opt for a transplant as early as possible to avoid complications caused by repeated blood transfusions.
A doctor at Lokmanya Tilak Municipal General Hospital, Sion, which has a one-bed paediatric bone-marrow transplant centre said that last year seven bone-marrow transplants were performed on children with thalassemia, all of whom were more than two years old. Doctors said fourteen-month-old Prachi Bhanushali from Daman who was operated at Kokilaben Dhirubhai Ambani Hospital is one of the youngest to undergo the transplant.
"For children with thalassemia ,the earlier we do a bone-marrow transplant, the better it is in the long run. Such children require repeated blood transfusions until a transplant can be done," said Dr Mamta Manglani, head of department, paediatrics, Sion Hospital.
Thalassemia is an inherited blood disorder, in which the body produces an abnormal form of haemoglobin, which affects oxygen supply to the tissues. Doctors said that for a child to have this disease, both parents must be carriers.
The condition is treated with blood transfusions, which can lead to health complications. "Repeated blood transfusions lead to iron buildup in the heart, liver and brain. This could lead to the early onset of diabetes and heart diseases," said Manglani.
"Most patients undergo transfusions as the cost of a transplant is high. However, the excessive iron buildup caused by repeated transfusions is toxic," said Dr Shantanu Sen, paediatric consultant and oncologist at Kokilaben Dhirubhai Ambani Hospital, who performed the transplant.
Prachi had high fever when she was just six months old. A blood test revealed her condition and doctors said she must undergo blood transfusions every two weeks.
"Her haemoglobin level was much lower than it should have been. My wife and I realised that both of us were carriers of the disease," said Girish, 36, Prachi's father who works at a ration shop in Daman.
A bone-marrow transplant is the only cure for thalassemia. "While a transplant is expensive, its cost equals that of ten years of blood transfusion," said Vinay Shetty, founder of the non-governmental organisation, Think Foundation. Prachi's surgery cost approximately 12 lakh, most of which was funded by charity groups.
Doctors said that in most cases, siblings turn out to be a match. In Prachi's case, her mother was a bone-marrow match, and could become the donor. "During the Human Leukocyte Antigen (HLA) testing to determine compatibility between the donor and the recipient, we found that Prachi's mother, Chandrika, was the perfect match," said Sen.
Experts said the high rate of intra-caste marriages in India is why parents turn out to be perfect matches for their children. "It is very rare to for the mother to be a match. We extracted stem cells from her mother's bone marrow and successfully transplanted them into Prachi. She will be discharged today," Sen added.
"Outside India, parents are rarely suitable matches for bone-marrow transplants. However, in India, about 3% of the donors are parents," said a doctor from KEM Hospital, Parel.
Health experts said Prachi belongs to a community in which the prevalence of thalassemia is high. "People belonging to such communities should get themselves screened before planning for pregnancies," he added.
What is Thalassemia?
Thalassemia is a blood disorder in which the body makes an abnormal form of haemoglobin.
If both parents are carriers of the disease, there is a 25% chance of the child getting it.
While blood transfusions help, doctors say a bone-marrow transplant is the only long-term solution.
One in every 25 Indians is a carrier of thalassemia, according to studies
The prevalence of thalassemia is high among communities such as Sindhis, Gujaratis, Punjabis, Mahars and Kutchis.
Close Story