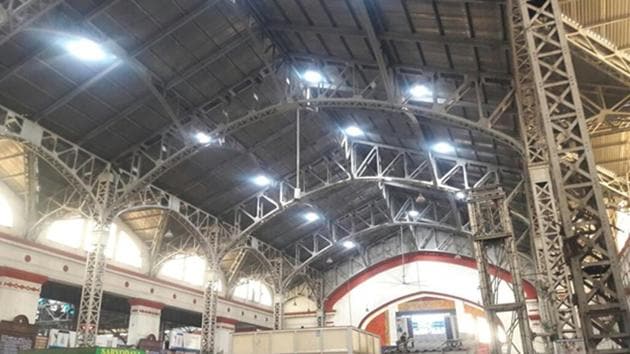 Energy-saving lights installed at Mumbai Central railway station
Installed at a cost of Rs4.46 lakh, they will light up even poorly lit areas at the station
UPDATED ON MAY 04, 2018 11:17 AM IST
The Western Railway (WR) has installed energy-saving natural tube lights at the mainline concourse of the Mumbai Central railway station to keep even poorly lit areas of the station bright during the daytime. The new type of lights are expected to bring down the energy bill, besides improving illumination at the station.
With the aim of reducing its carbon footprint, the railways has installed 18 natural tube lights covering the entire concourse of the colonial era station, which is one of the biggest terminals on WR. Every day, scores of outstation trains depart and arrive at the station.
WR has spent Rs4.46 lakh for fitting these lights, each costing around Rs21,000. The lights have a life of more than 20 years and a maximum coverage area of up to 1,600 square feet. They provide pure and natural dynamic daylight for 11 to 12 hours a day to the interiors.
"Regular lights give uneven brightness and at the big structures like station concourse, several areas remain poorly lit. The specialty of the natural lights is that they give uniform brightness at every corner of the station," said Ravinder Bhakar, chief spokesperson of WR.
Bhakar said as a part of the system a polycarbonate dome was installed on the rooftop of the station. The dome collects and concentrates ambiance daylight. The ultraviolet optical stabiliser, fitted inside the structure, evenly reflects the sunlight in the surrounding area.
Railway authorities are planning to collect feedback from the commuters about these lights during monsoon when the stations remain dark often during daytime as the city stays under cloud cover. Based on the feedback, it will extend these natural lights to other major stations, besides workshops and sheds.
With an aim to bring down the greenhouse emissions and reduce the energy bill, the Ministry of Railways has stressed on the use of renewable sources of energy.
Close