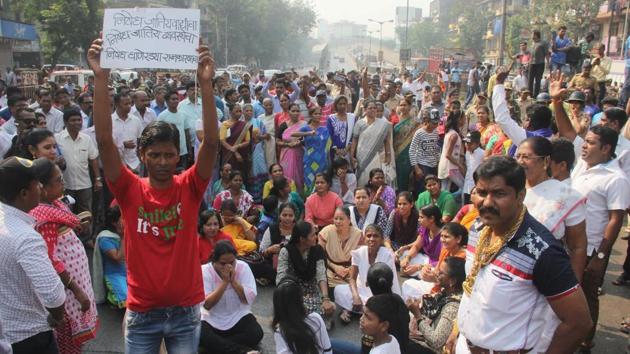 English as poison, to sow discord
PUBLISHED ON APR 03, 2018 07:34 PM IST
Who had ever heard of Sambhaji Bhide before the Bhima Koregaon incident on New Year's day this year? Bhide (real name Manohar Bhide) has been accused of inciting violence against Dalits who were celebrating two centuries of victory over the Peshwa army in 1818 and had been doing so peacefully every year for decades. But, obviously, following the silent Maratha morchas of last year, we should have been alert to the attempts to unleash a full scale caste war on Maharashtra and, perhaps, the country.
The Maratha morchas, after all, were only partially about reservations. After threatening full scale conflagration against the Maharashtra government in case that demand was not met, why is the community now sitting quiet? After speaking to many political scientists and observers, I am beginning to suspect that the real purpose of the Maratha morchas was not reservations per se, but the dilution of the Scheduled Castes and Scheduled Tribes (Prevention of Atrocities ) Act of 1989 which now seems to have been somewhat achieved through the aegis of the Supreme Court ruling of March 20 that has raised much angst among Dalits nationwide. Even as a slightly nervous Union government made a belated attempt to seek a review of the ruling, there has been some quiet celebration among the supporters of Manohar alias Sambhaji Bhide, who also took to the streets to protest against the demand for his arrest by various Dalit groups in the state. Few outside of Sangli, his native turf, had heard of Bhide, seen as close to some NCP leaders from the region while the Democratic Front governments were in power until 2014. But Bhide's sympathies clearly lay with the saffron forces and the bigotry in the octogenarian now being unleashed on the people is both surprising and alarming.
Even as chief minister Devendra Fadnavis has angered Dalits by giving him a clean chit, social media in Maharashtra is abuzz with a "mantra" penned by Bhide himself that refers to large sections of the people as 'mlechchas' (sort of untouchables) and demanding a universal switchover of lingua franca from English to Sanskrit. The posts may seem innocuous but are clearly not. Sanskrit is a dead language today essentially because all non-Brahmins were barred from studying and making use of it in everyday life. Not being allowed to read Sanskrit meant that vast sections of the Indian population were kept from learning the scriptures and thus remained uneducated and open to exploitation by the upper castes, who interpreted the scriptures to suit themselves. Even as an Englishman, Lord William Jones, a judge in British India, broke the secrecy surrounding Sanskrit texts and brought them to the larger world beyond India, it is obvious why his own English tongue became the preferred medium of communication in the country. (At one time an English education was synonymous with modernity and liberal values; today, though, there are a million ways to be a bigot in English!) But when Bhide joins a mention of mlechchas to the abolition of English as the lingua franca, it is quite clear what might be afoot. Not too many Dalit leaders in Maharashtra might have made the connection and not too many outside the state would be aware of the existence of Bhide and his sinister game plan. While it is unlikely to succeed anytime now or in the future, given how aspirational India looks upon English as its lifeline to prosperity and success, what is of greater concern is the attempt to cut a large section of the people from the learning of the English language with mythological comparison of English as "vish" or poison to Dev vaani (Sanskrit) as 'amrit' (nectar). In the same breath, in another verse, Bhide resolves to rid the Hindu community of mĺechchas and says whoever takes up this aim of ridding the nation of its enemies will liberate the country forever. In a mix of Sanskrit and Marathi, the verses are written in a rather shloka style and but for the use of the word "ingreji", which is a dead giveaway of its modern moorings, makes a fair try at turning the heads of people who might be gullible enough to fall for the trick of making them believe in their scriptural orientation.
In some ways, this is much worse than inciting people to violence at Bhima Koregaon and does merit a case for sowing seeds of discord between communities. But Bhide has patrons in high places. There is every likelihood that he will escape this offence too.
Close