Fadnavis failed to tackle drought, neglected Gadchiroli: Sharad Pawar
'Our government had started special budgetary provisions for the region which was discontinued by this regime,' he said.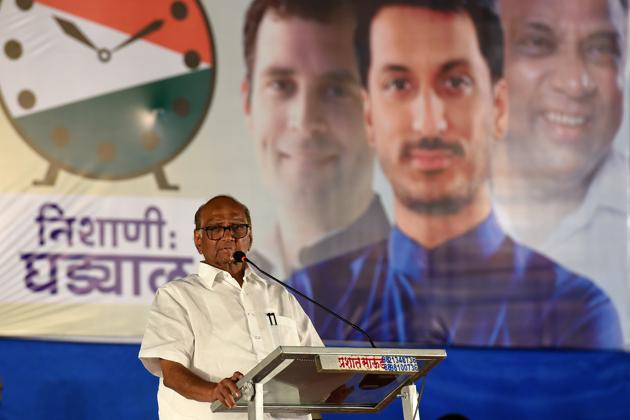 Updated on May 04, 2019 11:51 PM IST
Nationalist Congress Party (NCP) chief Sharad Pawar blamed chief minister Devendra Fadnavis for failing to tackle the drought crisis in the state and held him responsible for neglecting Gadchiroli district, where 15 security personnel were killed in a Maoist attack earlier this week.
Pawar, who was speaking to the media after at a party review meeting on Friday, said Fadnavis, who is from Vidarbha — where Gadchiroli district is located — has not paid proper attention to the region. Pawar, a former Maharashtra chief minister himself, cited the example of the late NCP leader RR Patil, who served as the state's home minister across two terms (between 2003 and 2014), and had sought guardianship of Maoists-hit Gadchiroli region. "Despite hailing from Sangli, Patil volunteered to become the guardian minister of Gadchiroli and visited the region at least once a month. Our government had special budgetary provisions for the region. Those were discontinued by this regime," Pawar said.
The NCP chief said the current government has not been able to tackle the drought situation in the state too. "There was a nine-month delay in announcing the drought," said Pawar, adding that the government started holding mitigation meetings and sending ministers to affected areas after he put pressure on them.
Pawar termed the state's excuse for not being able to carry out drought relief owing to the model code of conduct being in force as "faulty". "When we [Congress-NCP] were in power, I used to call the Election Commission and they gave permission [to combat drought] in a matter of three to four hours. Their only aim is to ensure the ruling party does not try to extract political mileage," he said. Pawar asked state NCP chief Jayant Patil to lead a party delegation to the government, outlining their list of demands to mitigate drought — this includes providing drinking water for people and cattle; generating employment; creating cattle shelters; loan waivers for affected people; and a special package for horticulture farmers.
The NCP chief expressed optimism about the opposition's grand alliance coming to power, saying they will meet after May 23 (when Lok Sabha results will be announced) and decide on the modalities to form a stable government.
Close Story