Flamingo spotting may resume in Sewri after Mumbai trans-harbour project is done: BNHS
The blueprint to develop Sewri port as a flamingo-watching area is being worked on with the state government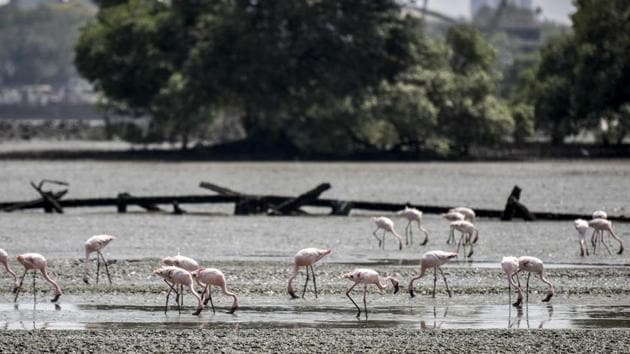 Updated on May 12, 2018 01:45 PM IST
After the Mumbai-Trans-Harbour Link (MTHL) is completed, the state government may allow a flamingo watching area at Sewri docks.
BNHS officials said this year around 40,000-45,000 fewer flamingos came to wetlands, including at Sewri where 15,000-20,000 birds were spotted. However, their arrival was delayed by almost six months.
"There were a lot of reports in February this year that said flamingos had not arrived at Sewri because of the MTHL construction. However, this was incorrect as there was a delayed arrival due to better presence of food and nesting sites in Gujarat this year. While the Sewri area will be closed to the public now and flamingo festival will be shifted to Navi Mumbai or Thane creek, the government is concerned about the issue and we are already working on a blueprint with them to develop the Sewri port as a flamingo watching area where the festival will happen post construction of this project," said Deepak Apte, director, BNHS.
The 10km-long and 3km-wide Mahul-Sewri mudflats is a protected area and was demarcated as an Important Biodiversity Area (IBA) since 2004. According to BNHS, the area is home to 149 species of migratory birds, 10 species of fish (of which only four remain, as per the study), 23 species of mangroves and mangrove-associated species and 53 other plants species.
READ: Arrival of flamingos at Navi Mumbai wetlands offers new hope against golf course project
With regard to the loss of 1,000 mangrove trees, the state mangrove cell said they were yet to decide the location for compensatory afforestation. "One hectare spread across different patches with a total of 1000 mangrove trees has been lost for the project. Now, the Thane creek flamingo sanctuary stands as the best alternative for citizens from Sewri to spot flamingos, that too in large numbers," said Makarand Ghodke, assistant conservator of forest, state mangrove cell.
The Mumbai Metropolitan Regional Development Authority (MMRDA) that is constructing MTHL said the flamingo population would not be affected by the project and mangroves would rejuvenate soon.
"Post soil-testing and geo technical survey, basic construction has begun at the site. During construction, these birds (flamingos and other wetland birds) keep a safe distance from the project site. However, the project construction will not stop citizens from viewing these birds, only they will be further into the wetland. As far as mangroves are concerned, after getting all permissions in place there is only a temporary loss. Once construction is over, we will ensure these mangroves regrow at the site," said Sanjay Khandare, additional metropolitan commissioner, MMRDA.
BNHS had recommended shifting alignment by 400 metres to safeguard flamingo population
In September 2015, the Bombay Natural History Society (BNHS) had submitted a list of recommendations to Mumbai Metropolitan Regional Development Authority (MMRDA) to protect the half a million migratory birds that visit the area. One of the recommendations was to shift the starting point of the MTHL by around 300-400 metres south of its current position at Sewri jetty. "Our recommendation had indicated that the link should curve southwards to join the existing span away from the habitats of flamingos and other waterbirds. However, apart from this recommendation all the others have been accepted by MMRDA," said Deepak Apte, director, BNHS adding that if realignment was done the population would not have been squeezed when construction began.
Topics
Close Story