The mesmering video that captures a flock of flamingos running through a shallow water body before finally taking off was shared by IAS Supriya Sahu on Twitter.

Published on Dec 21, 2022 10:47 AM IST
In 2018-19, 1.20 lakh flamingoes were found in the creek, while 96,400 were found in 2019-20. However, due to Covid, counting could not be conducted in 2020 and 2021.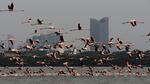 Published on Apr 30, 2022 07:18 PM IST
This video shared on Twitter by IAS officer Supriya Sahu shows a flock of flamingos at the Point Calimere Wildlife and Bird Sanctuary at Kodiakarai in Tamil Nadu.

Published on Dec 29, 2021 06:13 PM IST
Experts relying on aerial photos estimated that 25,000 flamingo couples, or 50,000 adult birds, settled in the area.

Updated on Aug 08, 2020 06:14 PM IST
PARIS |
By
Associated Press | Posted by: Srimoyee Chowdhury