Flight operations hit as Mumbai airport upgrades its landing system
Updated on May 19, 2018 11:29 AM IST
The airport handles 945 flight movements daily, 46 every hour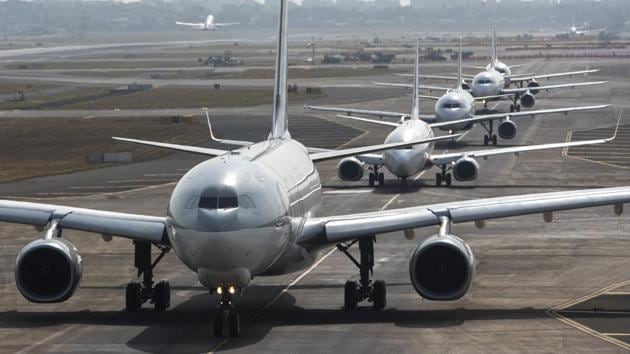 Hundreds of flights that fly in and out of the Mumbai airport every day were delayed on Friday, as the airport upgraded its Instrument Landing System (ILS) that guides flights.
The Mumbai airport handles 945 flight movements daily, and 46 an hour. Usually, flights take off and land on the main runway 27, but owing to the 12-hour system upgrade on Friday, airlines used the secondary runway which has a lower capacity.
Further, the minimum visibility pilots need to land at the Mumbai airport with the ILS is as low as 800 metres, but without it, they need a visibility of 2,400 metres. This means pilots have to rely on an older navigation system to take off and land, and as a result, airlines and passengers reported delays of up to an hour all through Friday.
According to flightradar24, a Swedish internet-based service that shows real-time aircraft flight information on a map, 230 arriving flights and 350 departing flights were delayed.
The 12-hour upgradation, from 11 am to 11 pm, began on Thursday and will go on till June 5, an airport official said.
Several airlines, including Jet Airways and Air Vistara , posted messages on social media informing passengers of the delay.
Airport officials said work on the ILS was on, but added that the delay on Friday morning was because of changing wind speeds and directions, and not the technical upgrade. MIAL said while one flight had to be cancelled, no flight was diverted or asked to go-around.
"Passengers can expect delay of around 30 minutes until the ILS is upgraded and made available. A new localiser will be placed with more antennas than the current one that has 14. This will help in more precision to the flight movements," explained a senior airport official, on condition of anonymity.
Close Story
Personalise your news feed. Follow trending topics