HC raps BMC for issuing orders to resurface Lalbaug flyover without audit
Hindustan Times |
, Mumbai
Kanchan Chaudhari
Jan 10, 2017 12:14 AM IST
The judges said this raised questions over the safety of commuters
The Brihanmumbai Municipal Corporation's (BMC's) approach of putting the cart before the horse has irked the Bombay high court. On Monday, the court demanded an explanation as to how the civic body issued tenders and work orders to resurface Lalbaug flyover without conducting a structural audit first to find out what needed to be done to strengthen the arterial bridge.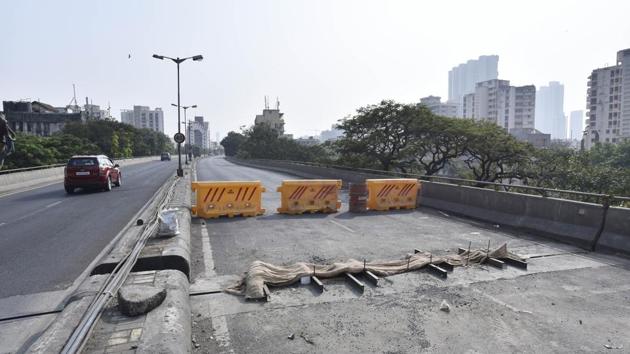 The division bench of justice Abhay Oka and justice Anuja Prabhudessai were hearing a public interest litigation filed by city-based activist Bhagwanji Rahiyani.
The judges were irked to note that though the 2.60-km-long flyover had witnessed structural problems, including a 200 mm crack that appeared on it, the BMC issued the Rs13 crore tender and work orders, without waiting for the structural audit report.
The judges said this raised questions over the safety of commuters and violated an earlier court order, which mandated a structural audit to ensure that these incidents were not repeated.
The court then asked the BMC's counsel to state that the resurfacing work will be put on hold till January 17, when the report is expected to be submitted. "You cannot start the work without the report," the judges said.
The counsel, however, said he could not make such a statement in the absence of a civic official.
The court thus posted the PIL for further hearing on Tuesday.
In the PIL — filed through advocate Sumedha Rao — Rahiyani said the flyover was shoddily constructed and a major disaster was imminent unless it was overhauled or rebuilt after a structural audit was undertaken. He sought action against all government and MMRDA officials, as well as the firm that constructed the bridge.
In support of his claim, he cited past structural failures on the flyover. He stated that he had also filed a PIL in 2012, seeking action against the construction firm.However, the high court disposed of it in January 2015, stating that as there were no untoward incidents on the flyover after April 2012 it was unnecessary to order a structural audit of the bridge or prosecute the contractor
However, the bench had asked the civic body to conduct regular checks to prevent such incidents.
After a 200-mm-wide crack appeared on the flyover in November last year, Rahiyani renewed his plea by filing a fresh PIL, seeking action against the concerned state, BMC and MMRDA officials, as well as the construction firm.

Read
In Mumbai: Second crack on Lalbaug flyover shuts it down again
Lalbaug flyover shut because of gaps to be reopened on Friday