Lalbaug flyover shut because of gaps to be reopened on Friday
Nov 10, 2016 07:50 PM IST
The Lalbaug flyover has been shut down since Wednesday night after cracks were spotted on the 6-year-old bridge
The Lalbaug flyover which has been shut for commuters since Wednesday night after a gap was spotted on the six-year-old bridge, will be open for use for Friday as the civic body has repaired the flyover temporarily. The incident has again raised doubts over the quality of the bridge's construction.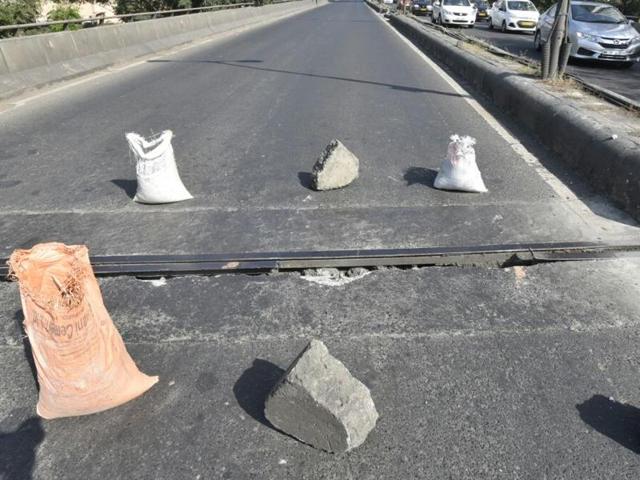 Sources in the civic officials said that a seal between two of the bridges' expansion joints had slipped leading to the development of the gap in the flyover. Expansion joints allow continuous flow of traffic between structures while accommodating movement, shrinkage, and temperature variations on reinforced concrete. The gap had appeared near the Chinchpokli end of the flyover.
"The flyover did not develop cracks. The rubber seal between expansion joints has come out. The same contractor will undertake the repair work as it is under defect liability period and we are expecting to finish the work by Sunday," said SO Kori, chief engineer bridges.
After re-opening the flyover on Friday, the Brihanmumbai Municipal Corporation (BMC) will undertake repairs over Saturday and Sunday. There are total 69 joints across the 2.45 km long Lalbaug flyover.
The defect liability period (the duration in which the maintenance of the project is responsibility of the contractor who has built the same) ends within a few days and civic body is trying to get the repair work done by the same contractor Simplex Infrastructure.
Not the first signs of trouble for the flyover
The flyover has had its own share of problems even before it was thrown open to public by Mumbai Metropolitan Region Development Authority (MMRDA).
There have been several construction-related issues with the flyover. In 2010, while the construction of the flyover was underway, a long beam of the flyover had collapsed on three cars and a motorbike, injuring one person.
Then soon after the flyover was opened to the public in June 2011, it developed potholes, for which the MMRDA slapped a fine of Rs5 lakh on the contractor.
A year later, in 2012, a concrete block from a non-structural component of the flyover collapsed on the junction below it. No one was injured.
After repeated accidents, MMRDA had slapped a show cause notice to the contractor. However, the firm has not been blacklisted yet.
On Thursday, the flyover had developed gaps on the north-bound arm of the flyover. It was shut for repair and maintenance resulting in traffic snarls in Matunga.
The Mumbai Metropolitan Region Development Authority (MMRDA) had recently handed the flyover over to BMC and the civic body was in the process of appointing a contractor for resurfacing of the flyover, only five years after its construction.
The Lalbaug flyover, which is the second longest flyover after the JJ flyover, runs from ITC Parel till Byculla Zoo and snakes through some of the most congested areas of Lalbaug.