Talgo train reaches Mumbai from Delhi after rain delay
Aug 02, 2016 06:12 PM IST
The nine-coach train that departed from Delhi on Monday evening was scheduled to reach Mumbai before 10am but was delayed by flood water that flowed from Damanganj river on to a section of tracks between Vapi and Udwada.
The high-speed Spanish Talgo train reached Mumbai Central station within 15 hours and 41 minutes since its departure from Delhi. It was delayed between Surat-Mumbai section as the tracks were washed away due to floods between Vapi-Bilad stations.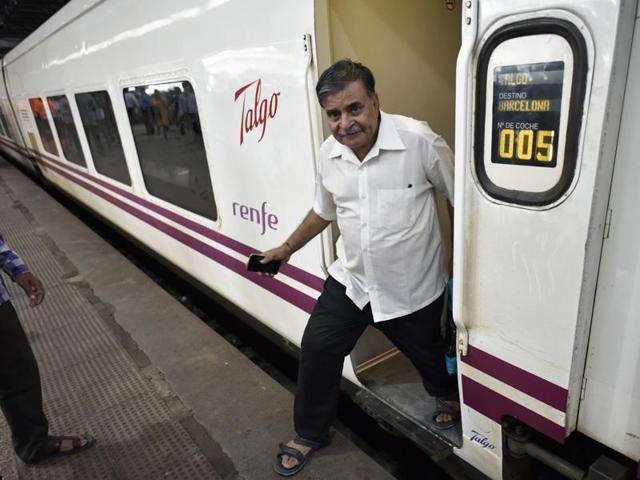 The nine-coach train attached to a state-of-the-art WAP 5 engine of the Indian Railways reached Mumbai Central station at 11.39am. It had departed from Delhi at 7.55pm on Monday.
Stay tuned with breaking news on HT Channel on Facebook.
Join Now
RDSO officials on board said the train achieved the highest speed of 130 km ph. Though it started three and half hours after Rajdhani express, Talgo reached before the premium train.
"Until the last hurdle, it was running ahead of time. It crossed Delhi-Surat distance in 11.40hours," he said requesting anonymity.
The Rajdhani Express, the fastest on Mumbai-Delhi route so far, can run at the speed of 91km per hour and takes 16 hours to complete this journey. The Talgo is capable of doing the same route at 160 km per hour.
The Talgo train recently became the fastest train in the country after it crossed 84 km distance between Mathura and Palwal in 38 minutes on a trial run, achieving a speed of 180km per hour.
The fastest train in the country so far is the Gatiman Express that runs between Delhi to Agra, capable of a top speed of 160km per hour.
Heavy rain and flood between Vapi and Udwada sections had hit the trial run of the Talgo train.
The nine-coach train that departed from Delhi on Monday evening was scheduled to reach Mumbai before 10am. The train was supposed to cover the distance of 1397km between the two cities in 12.30 hours in a record speed of 130-150kmph.
More than a dozen trains arriving to and departing from the city and have been stalled at stations en route and over 25 trains have been rescheduled, while a few others have been cancelled, informed Western railway's Mumbai division. It is however not known where the Talgo train had to stop.
According to sources, flood water from Damangang river washed away an about 10m-long track between Vapi and Udwada section as it flowed over it. The place is about 169-174 km away from Mumbai's Churchgate station. The north-bound tracks are affected more than the south-bound one.
Mukul Jain, divisional railway manager of WR, tweeted around 4.30am in the morning that they had started movement of trains on south-bound tracks with restricted speed. "Up trains started with restricted speed between Vapi-Udwada. Movement of regulated trains will get streamlined in the morning hours," tweeted Jain.
WR spokesperson could not be reached for an official comment. Sources said Talgo train's journey may get delayed as several trains were regulated en route.