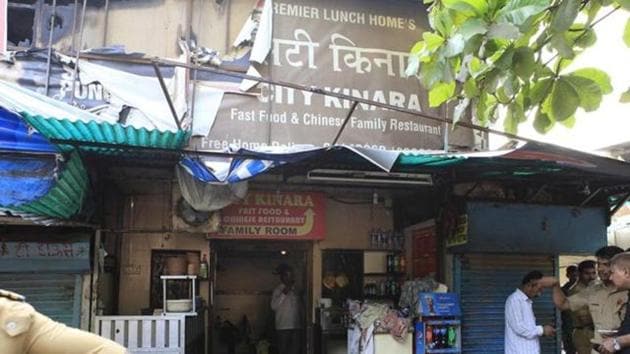 Two years after 8 students died in Mumbai restaurant fire, city's eateries still don't care about safety norms
Popular restaurants such as Poptates, Timbuctoo Lounge and Slice of Lime have inadequate firefighting equipment
UPDATED ON MAY 06, 2017 09:26 AM IST
Seven eateries in suburban Malad have been flouting fire-safety norms, a recent inspection by the fire brigade has revealed.
The list includes popular restaurants such as Poptates, Timbuctoo Lounge and Slice of Lime — representatives of the three restaurants, however, have denied the charge and claim they submitted all necessary documents.
The fire brigade said the internal fire-fighting system was defunct in Poptates and Timbuctoo Lounge, while Slice of Lime was found operating without a mandatory no-objection certificate from the fire brigade. Internal fire-fighting system includes fire extinguishers, sprinklers and fire alarms, and help contain the fire until the fire brigade arrives.
Read: Fire at Kurla eatery kills 8; gas leak, short circuit may be cause
In 2015, eight college students died after a fire broke out in Kurla's Kinara restaurant. After the fire, the Brihanmumbai Municipal Corporation (BMC) made it mandatory for all hotels to review their fire-fighting equipment and put up a board outside saying the premises followed fire-safety guidelines.
The Malad fire station inspected eight eateries and a hospital, following complaints from an RTI activist Sharique Raza Shaikh. The inspections were conducted in April.
Of the eight eateries, only one was found to be following the norms. The brigade found the fire-fighting system at the Zenith hospital was also not working.
Read: Day after Kurla eatery fire, BMC chief orders massive crackdown
Shaikh, a Malad resident, said he filed the complaints after visiting some of these places.
"It was quite shocking to find these restaurants and even a hospital was ignoring fire safety rules. The BMC must take quick action and revoke their licenses," he said.
In its inspection reports, copies of which are with HT, the brigade also recommended that BMC's P/north ward office (which includes Malad) and the health department conduct separate inspections to check for additions and alterations made to structures and trade-licenses.
SG Naik, the station officer at Malad fire station said, "The annual maintenance contracts of these places had lapsed. They should get it renewed now."
According to the fire norms, every structure has to have their internal fire-equipment checked and submit a form to the fire department every six months, once each in January and July. These norms, however, are hardly followed.
Close