Maharashtra HSC results today: Mumbai teen fights rheumatoid arthritis, scores 61.23%
Jun 01, 2017 10:27 AM IST
Mumbai city news: Ved Ahinave wrote his exams without a writer, despite swelling and pain in his joints
Battling severe rheumatoid arthritis, a condition usually associated with the elderly, Ved Ahinave, a 17-year-old from Mumbai, scored 61.23% in the Higher Secondary Certificate (HSC) exams.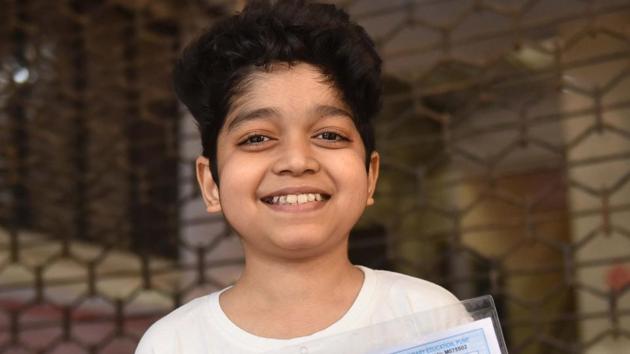 The results were declared at 1pm.
Ved wrote his exams without a writer, despite swelling and pain in his joints. He scored 66 marks in English and 77 marks in information technology.
"My hands and legs started to hurt because of the strain, but I took frequent breaks and completed the paper," said the student of Swami Vivekananda International School and Junior College, Kandivli. "I am happy with my score, I I want to work in the IT sector, just like my parents. I love computers," said Ved.
The 17-year-old's is a rare case.
Ved was diagnosed with arthritis when he was six. The disease is common among people in their late 40s and 50s. It causes the body's immune system to attack the joints, leading to inflammation and thickening of tissues. His condition worsened when he was in Class 10.
Constant consumption of medicines — mostly steroids and painkillers — however stunted his growth, said his mother, Seema. "He is 17, but is three feet and five inches tall," Seema said, adding they don't know what caused the disease.
"Doctors tell me it could be because of low haemoglobin levels during my pregnancy. Some say it is genetic," said the mother.
Ved couldn't get a writer as the board refused to acknowledge his illness. "We submitted medical certificates, including one from Sir JJ Hospital. But the board doesn't have provisions for arthritis," said his father Vishwas, 46, an electronics engineer. "He used to succumb to bouts of depression, but my friend kept him motivated. His teachers, especially Miss Leena, helped him a lot."
There is no permanent cure for Ved's disease. He is learning to live with it. "He spends his time configuring phones. We think it can be a good profession if he gets to work from home," his mother said.