HT SPECIAL: I was tortured before arrest, 13/7 blasts accused tells court
Sep 27, 2016 01:58 AM IST
Haroon Rashid Naik — accused of playing a key role in the 13/7 Mumbai serial blasts claims he was subjected to physical torture before he was formally arrested in a fake currency case on August 22, 2011
Haroon Rashid Naik — accused of playing a key role in the 13/7 Mumbai serial blasts claims he was subjected to physical torture before he was formally arrested in a fake currency case on August 22, 2011.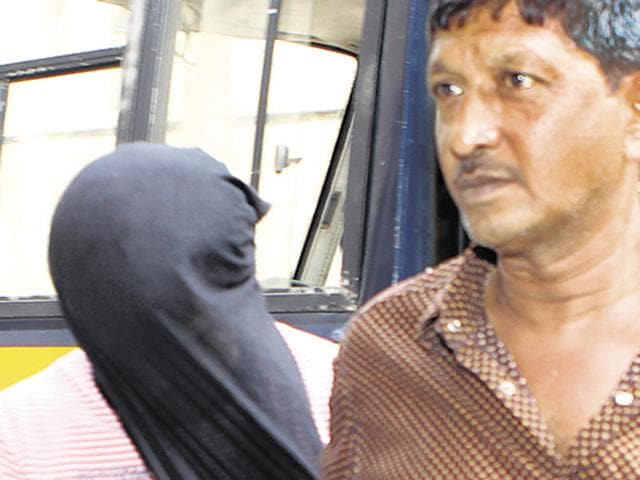 Naik also refuted the prosecution's claim that he was associated with the banned Students Islamic Movement of India (SIMI), and said he did not know of such an organisation.
At an ongoing trial in the fake currency case against Naik and two others — Asrar Ahmad and Azhar-Ul- Islam — Naik last week examined himself as a witness and deposed before the court. The prosecution said the Anti-Terrorism Squad (ATS) had recovered 161 Fake Indian Currency Notes (FICN) worth Rs97,500 on August 22, 2011. The agency said Naik was arrested from a guest house in Dadar on August 22, 2011. The agency told the court terrorists use fake currency to commit acts of terror and that it is smuggled from Pakistan and Bangladesh.
Naik, however, denied the prosecution's claims and said ATS officers had falsely accused him of being member of SIMI. "They asked me if I was a member of SIMI. I didn't know anything about it. They asked me if I knew any friends who were associated with it. I told them many times I didn't know anything about it," Naik told the court.
Naik said he was picked up by the police at the airport, when he returned from Saudi Arabia on August 19, 2011.
"I was questioned for hours, first by the customs officers and later by officers who introduced themselves as being from the ATS . They took my luggage and documents," he said.
According to the agency's charge sheet, Naik had undergone militant training in a camp organised by the Lashkar-e-Taiba at Chulistan in Pakistan. The agency said he entered Pakistan after crossing the border via Bangladesh. It added he had been involved in terrorist activities since 2000, when he left home without informing anyone. Naik said he never travelled out of the country before 2009, when he went to Saudi Arabia for a job. Naik will now be cross-examined by special public prosecutor Rohini Salian.
The man who met Osama, trained bomb-makers
As a teenager, Haroon Rashid Abdul Hamid Naik was well-behaved and soft-spoken; the kind of boy who never even got into a brawl and that others looked up to, his family said.
Two decades later, the youngest of six children was accused of being an Indian Mujahideen (IM) operative and arrested for allegedly sponsoring the July 13, 2011 Mumbai serial blasts that killed 27 people.
Even his family members did not know how Haroon slowly underwent this transition, after his father decided to relocate from Kurla to Mumbra in the aftermath of the 1993 riots. His father told HT he had not realised the deep impact the two incidents left on the Haroon.
The transformation could have started when Haroon had to change schools - he stopped attending the Anjuman-e-Islam school in Kurla as his family sent him to study at a madrassa in Malegaon where his sister used to study. Haroon got thrown out after a tiff with teachers, and was later sent to a Mumbra school from where he went on to pursue a diploma in electronics from the Institute of Technology at Ullhasnagar. It was around this time that Haroon, like his brothers, is said to have enrolled with the Students Islamic Movement of India (SIMI).
Sources also spoke of how the boy, who toed the line his strict father had drawn, was thrown out of the house in 2000 when he fell in love with a girl the family did not approve of. Haroon found a job in Hyderabad, and the same year, a day after Eid, Haroon visited home before disappearing. When Haroon did not call for a month, the family made enquiries and discovered he had quit his job a month before Eid. The Naiks registered a missing complaint, but Haroon could not be traced.
The Maharashtra Anti-Terrorist Squad (ATS) claims it is during this time that Haroon was indoctrinated by a senior IM operative, Asrar Ahmed, who was arrested with Haroon in a counterfeit currency case in August 2011. Later, IM founders Riyaz Bhatkal and Tarique Ismail and other members, Asif Raza Khan and Amir Ali Raza, arranged for Haroon to go to Bangladesh.
The ATS charge sheet in the counterfeit currency case states a Miyajaan in Bangladesh helped Haroon get a Pakistani passport. In late 2000, Haroon went to Pakistan, trained at the Bahawalpur academy of the Lashkar-e-Taiba headed by its then chief of India operations Azam Cheema.
Sources said after Haroon expressed an interest in fighting the Northern Alliance and the US forces in Afghanistan, he underwent commando training allegedly imparted by Pakistan's Special Services Group, the Zarar Company. He joined Al Qaeda fighters in Kandahar, where he met its chief Osama bin Laden.
Haroon later came back to India and started a leather bags business in Delhi with a Nepali national identified as Mumtaz. The duo would travel to Nepal and from there to Pakistan, ATS officials said.
In December 2005, Haroon visited Pakistan as Sheikh Mustak Sheikh Aijub, photos from the Foreigners Regional Registration office in Amritsar show. And in 2009, Haroon's brothers took him to Saudi Arabia, where he first worked as a limousine driver. In 2010, Haroon set up a business of providing local labourers to firms ATS officials said was to conceal his terrorist activities.
According to the ATS, throught the course of all his training, Haroon had become an expert bomb-maker and was in touch with a serving Pakistani army officer known to him as General Murad, who visited him in Saudi and discussed the IM's plans. Through General Murad, Haroon was introduced to operatives of various terrorist groups, including Hamas of Palestine and Abu Sayyaf and Jemmah Islamiyah groups from South-east Asia. "Haroon used to train their operatives to make sophisticated improvised explosive devices in a Saudi flat," an ATS official said.
Last month, Haroon was booked for his suspected role in the 13/7 blasts.