Hundreds throng Mumbai's Shivaji Park to demand justice for slain tigress Avni
Published on Nov 12, 2018 11:16 AM IST
The protesters in Mumbai displayed black flags, posters and banners and raised slogans. They also demanded resignation of Maharashtra forest minister Sudhir Mungantiwar.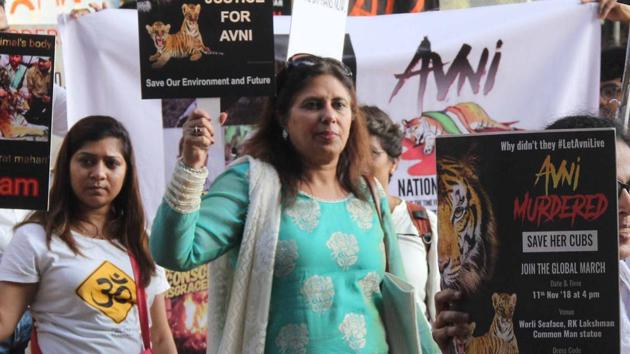 Seeking justice for 'man-eating' tigress T-1, also known as Avni, who was shot dead last week, hundreds of Mumbaiites protested at Shivaji Park on Sunday evening. The protest in Mumbai was one of the 22 events organised across India and 10 others countries to condemn Avni's death.
The protesters in Mumbai displayed black flags, posters and banners and citizens raised slogans such as 'Save our jungles', 'We want justice for Avni'. They also demanded resignation of state forest minister Sudhir Mungantiwar.
On November 2, six-year-old Avni, mother of two cubs and 'man-eater' responsible for the death 13 villagers, was shot dead by a team comprising a private hunter and two forest department officials near Borati-Warud Road in Ralegaon. Animal activists alleged the hunter shot and killed the tigress first and then added a dart to her left hindlimb to make it look like they had followed the protocol of tranquilising before shooting the animal in self-defence.
"The purpose of this global peace march is to mourn Avni's death, seek justice, spread awareness and sustainable change for the future generations. It is to honour Avni's memory, while highlighting her unlawful execution," said Anand Siva, city-based animal activist.
Siva's opinion was seconded by Anupama Mukherjee from Chembur, who was part of the protest.
"It will become difficult for the government to manage the situation if we collaborate and decide to raise our dissent. It is time for the state to realise that lack of action is agitating the citizens," Mukherjee added.
Sarita Subramaniam, who had approached the Supreme Court and Nagpur bench of the Bombay high court to stop Avni's killing, led Sunday's protest and put forth five major demands of the protesters.
"The demands are: form a competent team from outside to rescue Avni's cubs; initiate a judicial probe; resignation of the forest minister and sacking of chief wildlife warden (AK Misra). Lastly, if the forest department claims locals are protecting forests then there is no need for a forest department," said Subramaniam.
Besides artists and poets, groups with political affiliation also took part in the protest.
Chief conservator of forests (wildlife) AK Misra said, "Such activities are fit for city dwellers, who will never understand the difficulties faced within a jungle."
He added there was no development in rescuing Avni's two cubs so far.
Meanwhile in Nagpur , around 700 people took part in a protest that was organised from Maharajbag zoo to RBI Square in Nagpur as well. It was led by other petitioner Dr Jerryl Banait. "We are all united and we will not let this happen with any animal. We need justice for Avni," he said.
Close Story
Personalise your news feed. Follow trending topics