I would pick a well-made Chole Bhature over filet mignon, says Kunal Vijayakar
#MaskaMaarke: The Foodie explains his lifelong obsession with channa.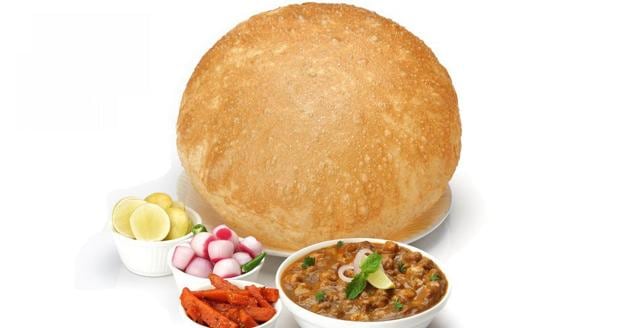 Published on Nov 16, 2018 04:54 PM IST
I was an obsessive-compulsive child when it came to food. I'd have the uncontrollable urge to eat the same thing, meal after meal after meal, and I had a mother and grandmother who indulged me completely. Some of these phases would last several months. Like the time I ate fried prawns, and only fried prawns, for every meal.
We make the most delicious prawns at home, deep-fried, with a dusting of turmeric, salt, red chilli powder and rice flour. They'd turn out soft inside with a thin, crisp layer of masala and flour outside. I had to have fried prawns at every meal. Sometime large, sometime medium and sometimes even the tiny ones we call karandi.
Then I went through a fixation for tisrya or clams. My grandmother cooked clams in two ways, sukka or with gravy, both with coconut and pounded garam masala. I consumed so many clams in such an endless stream that the virulent molluscs combined with the combustible garam masala made me quite ill, and I suffered from a sensitive digestive system for years afterwards.
There were less brutal food obsessions too. Yellow potato sabzi for example, the kind you eat with puris, khakra and daal fry; chicken puffs; ham sandwiches... it was quite a list. But my biggest fetish was for channa or chickpeas. We made two kinds of Channa at home, small black gram with a tadka of just asafoetida and mustard seeds with basic masalas and a pinch of sugar, and Chole made from Kabuli channa, which unfortunately never tasted like a real Delhi Channa Bhatura. The kind that I found very hard to resist. Even today if I am confronted with a well-made plate of Channa Bhatura, I may just choose it over a juicy filet mignon.
In almost every street in northern India, stalls open at the crack of dawn and large sooty cauldrons boil over as the aroma of chickpeas cooking in oil, spices, ginger and tamarind quilt the morning air. Add to that the frying of large, billowing bhaturas all filled with goodness and steam. It's but natural that people line up at these Chole Bhature stalls to satiate their morning hunger.
It is believed that Channa Bhatura or Chole Bhature comes to us from the cuisine of the erstwhile undivided Punjab. Pindi Chole, which is a variation and probably the precursor to Chole Bhature, gets its name from Rawalpindi, in the Punjab province of Pakistan. I remember queuing early one morning opposite Hans Raj College in Delhi, at Rawal Pindi Wale Chole Bhature, a stall that has been serving Chole Bhature since 1954. It isn't often that you find anything in India named after a Pakistani city, and the popularity of this stall is a testament to the origin and glory of this dish.
The channa here is dark, nearly black; the bhaturas, fluffy, crisp and golden. There are two types of Pindi Chole Bhature served here, paneer and aloo, both served with pickled onions and a long green chilly. Pindi Chole reinforces my affection, nay obsession, with fatty deep-fried north Indian chaat.
Every home in north India has its secret channa recipe and it's but natural that everyone here thinks his or her mother or grandmother makes the best chana in the world. It generally starts with the channa being soaked overnight and then cooked with spices till just before it turns mushy. For me, the big bewilderment has always been to find out how the white Kabuli channa turns nearly black after cooking. Some say it is cooked with amla to make it black. After all, amla has for centuries been used in the making of inks, and dyes for fabrics. Some suggest the channa is cooked with tea, which imparts the dark colour without actually influencing the flavour. I honestly don't care. As long as the Chole is mushy, spicy and hot, I'm game for a dip with a Bhatura.
Mumbai has its own Channa Bhatura favourites and the heart of the Channa Bhatura district is Sion. In the Koliwada here, people swear by Manjeet Chole Puri, and Chawlas. Both do the Chole the Amritsari way and serve it with either Bhaturas or Kulchas. In a lane just off Sion Station is the famed Guru Kripa. In their version, the channa is a shade of yellow and is served with a little boondi raita, sweet chutney and sliced onions. But I suspect Guru Kripa mainly makes Channa to accompany their famous samosas and Ragda Patties, and not necessarily a Bhatura.
The Channa Masala at Gaylords, Churchgate, is as Punjabi as you can get. Like most of their Punjabi dishes, including the Butter Chicken, it tastes like it's been made in Delhi. But for me nothing compares with the Channa Bhatura at Cream Centre. The branch at Chowpatty has been there since before I was born. My parents lived right next door and actually went there on dates. The channa there is dark (as it should be), oily (as it ought to be) and soft (as it must be) with a strong jab of masala. The recipe for the masala is a well-kept secret. The Bhaturas are humungous, and come to the table piping hot. You must gently puncture the crisp layer to let the steam out and then scoop the channa up with it. Cream Centre serves a very mustardy carrot pickle that works magically with the CB. That mix of creamy, flavour-rich protein and crunchy deep-fried dough… it just can't get better that than, can it?
Close Story