In Mumbai: Documents reveal Mahim nature park was notified as forest in 1991
Jul 30, 2017 11:21 PM IST
Located along the banks of the Mithi River and constructed over a dumping ground in 1994, the park is spread across 37 acres
As the debate continues on whether Aarey Milk Colony, Goregaon, is actually a forest or not, a government resolution (GR) from 1991 has revealed that Maharashtra Nature Park (MNP), popularly known as Mahim nature park, was notified as a forest back then.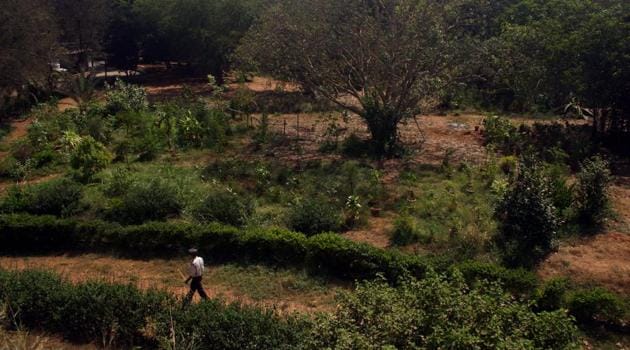 Non-governmental organisation (NGO) Vanashakti procured the relevant documents through a Right to Information (RTI) query. The NGO attached the document to its written complaint that was forwarded to chief minister Devendra Fadnavis earlier this month, alleging that even though the park was declared a forest, the state forest department did not take possession of the land.
The NGO requested the CM to handover the land to the forest department and cancel all plans to redevelop the park. "We fail to understand how can a protected forest area can be under the custody of MMRDA for so long?" said Stalin D, director, Vanashakti.
Located along the banks of the Mithi River and constructed over a dumping ground in 1994, the park is spread across 37 acres. A biodiveristy hotspot, the park is home to 158 species of birds, 85 types of butterflies, 32 varieties of reptiles and 30 types of spiders.
The Mumbai Metropolitan Regional Development Authority (MMRDA) wants to redevelop the park and beautify it with a pedestrian-cycling bridge — connecting Bandra-Kurla-Complex with the nature park — a water-front promenade all along a one and a half kilometre stretch of the Mithi river, a multi-storey parking lot, build new office buildings, play area for children, library, watchtower, cafe, bird walk and a butterfly park.
The GR identified a total area of 184.14 hectares, with parts of Mahim creek, MNP and a few villages spread across Dharavi, Bandra and Mahim, as part of the protected forest cover.
Stalin said , "In 1997, the Supreme Court directed the protection of forests and state governments to submit detailed maps and layouts of forest areas in their respective states but the forest department never submitted this for Aarey or the park owing to vested interests."
He added that immediate action from the state would help prevent further litigation on the issue.
The park officials said the area was a revenue land in 1991 and a proposal to convert it into a protected forest land was table later.
"The forest department had decided that areas around Mithi were to be made into protected forests that would ultimately become a bird sanctuary," said Avinash Kubal, deputy director, Mahim nature park. "However, converting a revenue land into a protected land is a lengthy process. While a part of the process was done back then, the rest is pending."
While officials from the forest department refused to comment, a senior MMRDA official said he was not aware of such GR issued 26 years ago. Also, a detailed study would be needed before issuing an official statement on the issue.
"The government of Maharashtra is satisfied that the Mahim Nature Park and mangrove areas contiguous to it in Bombay district, hereinafter referred to as 'the said forest lands' are in immediate need of protection under the provisions of the Indian Forest Act, 1927, in its application to the state," read the GR by the revenue and forest departments, Mantralaya, issued on March 16, 1991. "Now, therefore, in exercise of the powers conferred by the proviso to… section 29, 30, under the Indian Forest Act, 1927, the state government declare the said forest lands to be a protected forest to provisions of the Act shall apply."