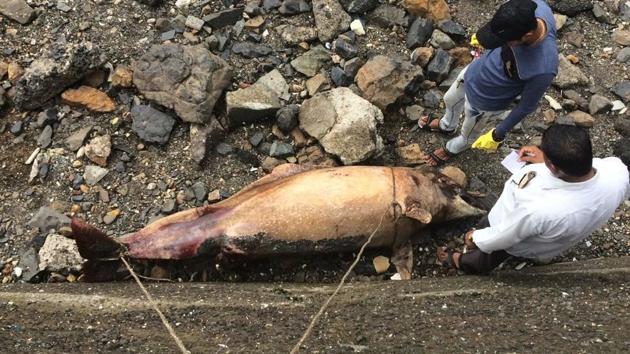 Is sea pollution killing dolphins off Mumbai coast?
Three dolphin deaths between February and May in Mumbai were due to respiratory infection.
UPDATED ON JUL 16, 2018 12:16 PM IST
Is polluted sea water off Mumbai's coast killing dolphins?
After several carcasses of the marine mammals have washed ashore in the past two years, the state has for the first time got evidence of what is causing their deaths. The post-mortem reports of three dolphins found along the city's coast between February and May this year said they died of respiratory infections.
Some marine biologists have attributed the infections to pollution in the sea caused by sewage discharge, others said more studies were needed to understand why dolphins were dying, but they all agreed that such infections are usually caused by contaminated water.
"Dolphins have high tolerance for turbid waters, but an infection is mostly caused by bacterial contamination that has taken place because of pollution," said E Vivekanandan, a scientist with the Central Marine Fisheries Research Institute.
In 2018 alone, eight marine mammals have washed ashore dead — seven dolphins and one finless porpoise. This includes the two cases from Bandra on Wednesday and Thursday, last week. Since 2016, 89 such cases have been recorded in Mumbai.
On February 23 this year, a 5.5-foot Indian Ocean humpback dolphin washed ashore Juhu beach; another seven-foot long carcass of an Indian Ocean humpback dolphin washed ashore Versova beach on April 24.
On May 18, the same species washed ashore Khar Danda. All three carcasses were sent for autopsy.
The post-mortem reports of the dolphins found last week are not yet available.
These post-mortem findings are important as this is the first attempt to find the cause of these deaths. Old age has been ruled out, as in most of the cases, the mammals were adults or subadults. "This is the first time we have got any conclusive scientific evidence for the cause of death for dolphins so far since 2015," said N Vasudevan, additional principal chief conservator of forest, state mangrove cell.
"The infection could have happened naturally, but the exact reasons are not clear yet. However, this gives us a clue about the recurring deaths, and something to work with to understand the issue better. After the mangrove cell began focussing on marine conservation, there is regular reporting of such cases, collection of tissue samples, and wherever possible, an autopsy is carried out."
The post-mortem reports for dolphin deaths between January and May showed that most of the visceral organs of the dolphins were decomposed, and that there was abscess, or collection of pus, in the lungs.
This shows the presence of an infection, and the most likely cause of death, the inference by the Bombay Veterinary College, Parel, read.
"Of the many deaths reported along the Mumbai coast, only a handful of carcasses are fit for post mortem," said Prashant Deshmukh, range forest officer (west), state mangrove cell.
"However, the necropsy of the six-foot long dolphin that washed ashore at Bandstand was conducted on Friday, and results are expected later this week. This should give us a better idea about the deaths."
Deshmukh said the cell has decided to preserve the skeletal remains of the dolphin that washed ashore at Bandstand.
The Indian Ocean humpback dolphins (Sousa plumbea) are protected under schedule I of the Wildlife Protection Act, 1972.
Apart from dolphins, the Konkan coastline, including Mumbai, is home to species such as the Indo-Pacific finless porpoise, and two species of whales — Bryde's whale (Balaenoptera edeni), blue whale (Balaenoptera musculus), and sperm whale (Physeter macrocephalus).
Close