Kalyan dump yard fire blazes for 6 hours
Nov 24, 2018 12:29 AM IST
Firemen will continue to spray water throughout the night at Adharwadi dumping ground to prevent fire from sparking again
A major fire broke out at Adharwadi dumping ground in Kalyan (West) on Friday.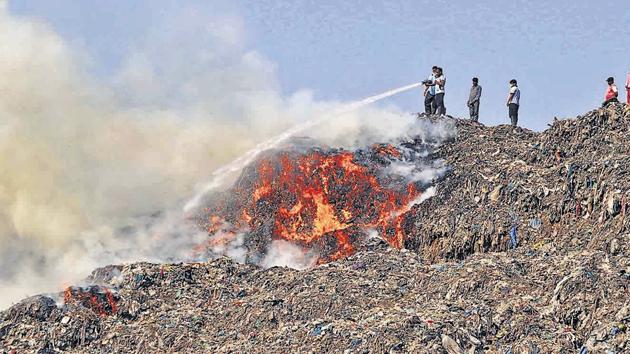 Three fire tenders and six water tankers brought the fire under control after six hours.
Stay tuned with breaking news on HT Channel on Facebook.
Join Now
"The fire broke out around 2pm. Thick smoke filled the area throughout the evening while fire officials were trying to douse the blaze. The fire was doused after 6 hours but we will continue to spray water to control heat," said Sudhakar Kulkarni, fire officer, KDMC.
The dumping ground spread on 15 acres is saturated with 550 metric tonnes of unsegregated waste dumped here every day.
The Kalyan-Dombivli Municipal Corporation (KDMC) has been struggling to manage solid waste and is looking for an alternative place.
"A portion of the dump yard caught fire and the blaze spread," said Kulkarni.
This is the sixth time the dump yard has caught fire this year. In March, a major fire broke out on the landfill. It took 20 hours to douse the blaze.
KDMC commissioner Govind Bodke had assured the residents of putting in place measures to curb fire incidents. However, there is no major change in the situation, said residents.
"Suddenly, the air was covered with thick smoke. It was difficult to breathe. We are suffering daily as the civic body has failed to take proper measures," said Mitali Singh, 30, a resident of Wadeghar, Kalyan (West).
Such incidents keep happening throughout the year. Fed up of the pollution, the residents protested and demanded closure of the dump yard.
With no solution in sight, the residents adopted a new measure to decompose waste last month.
Members of Jagruk Nagrik, a group formed by residents to demand the closing of the landfill, started spraying a solution (decomposer culture) on the waste, which accelerates decomposition of wet waste and reduces it to 30% in 40 days since earlier this month.
"I saw smoke billowing when I was passing through Durgadi bridge. I was worried our efforts would have been in vain. Fortunately, the area where we are working has not been affected," said Sreeniwas Ghanekar, founder of Jagruk Nagrik.
Read more: Adharwadi fires: Kalyan residents take to streets demanding closure of dump yard
Bodke was unavailable for comment.
A KDMC official, who did not wish to be named, said, "After the fire is doused, we will visit the site and inspect the cause of the fire. Usually the dump yard catches fire due to the heat generated from formation of methane gas from the waste. We will also check if somebody has deliberately set the garbage on fire."