Maharashtra Lok Sabha bypolls: EVM issues delay voting in Palghar and Bhandara-Gondia
May 28, 2018 12:12 PM IST
Technical problems reported in at least 35 EVMs on Monday morning; at some polling stations, VVPAT found to be defunct.
As voting for the Lok Sabha bypolls in two constituencies in Maharashtra — Palghar and Bhandara Gondia — began at 7am on Monday across 2,246 polling stations, at least 35 electronic voting machines (EVMs) reported technical problems, which have delayed polling.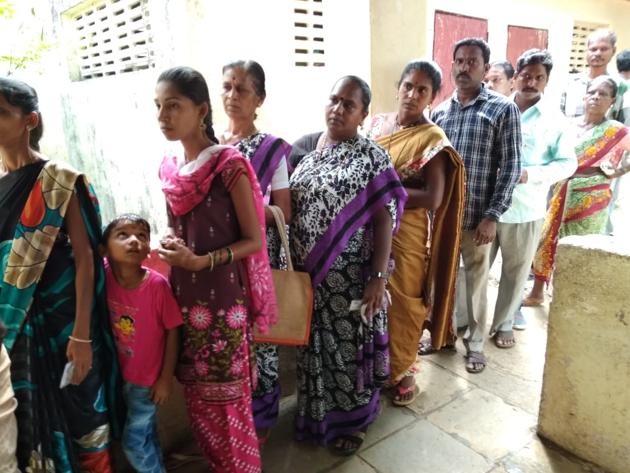 After polling started, technical issues were reported in around 20 EVMs in Palghar and 15 machines in Bhandara-Gondia. At least 98 Voter Verifiable Paper Audit Trail (VVPAT) machines across polling booths in Palghar, Dahanu, Boisar, Nalasopara and Vasai malfunctioned. The VVPAT is an independent verification system for voting machines that allows voters to check if their vote was cast correctly.
Authorities said they have reserve machines, and that polling would not be affected. "Majority of the issues have been reported from Nalasopara," said Dr Prashant Narnaware, collector Palghar district, and returning officer for the by-election.
Umesh Birari, deputy collector of Palghar, said glitches in VVPAT machines have been reported from 20 to 25 centres. "VVPAT machines are extremely sensitive to dust and light. These issues were anticipated. We have 96 engineers spread out across the constituency who are helping us and replacing the machines. We have kept 15% reserves for VVPAT," Narnaware said, adding that faulty machines are being replaced and votes from machines that encountered problems would be retrieved.
"We have informed the Election Commission, and will take a review at 3pm on extending voting timings. We will make sure that nobody goes back without voting," he said.
The two Lok Sabha seats in the state are among the four in the country where bypolls are being held on Monday.
The Palghar bypolls were necessitated by the death of sitting Bharatiya Janata Party (BJP) MP Chintaman Wanga in January, while Bhandara-Gondia by-elections are being held after the BJP's sitting MP Nana Patole resigned from the party in December 2017.
Both constituencies have seen heated campaigns, but Palghar has witnessed a high-pitched battle between the two ruling allies, the BJP and the Shiv Sena. Winning in the two state constituencies has become a matter of prestige for the BJP as both seats had its sitting MPs. The party also wants to maintain its numbers as its number in the Lower House in Parliament has dropped close to the half-way mark.
In Palghar, the BJP has fielded Rajendra Gavit, a Congress turncoat, while the Sena has nominated Shrinivas Wanga, son of late Chintaman Wanga. Shrinivas joined the Sena just days ahead of the bypolls. The Congress and the Bahujan Vikas Aghadi have fielded their former MPs Damodar Shingda and Baliram Jadhav, respectively, while the Communist Party of India (Marxist), which has influence in some pockets of the constituency, has fielded Kiran Gahla.
In Bhandara-Gondia, it is a straight fight between the BJP's Hemant Patle and the Nationalist Congress Party's Madhukar Kukde, though there are 18 candidates in all.
In first two hours of polling, 11% of the total voters cast their votes in Bhandara-Gondia; it was 8% in Palghar at 10am.
The Election Commission of India (ECI) has declared 14 polling stations as critical in Palghar; the number of such stations in Bhandara-Gondia, is 113 — 71 polling stations Gondia are in Maoist-affected areas.
Palghar has 17.31 lakh registered voters, while Bhandara-Gondia has 17.6 lakh.