Tribal minister Vishnu Savara in a soup for his casual remarks on malnutrition deaths
Sep 17, 2016 01:17 AM IST
"Let them be." That's what state tribal minister Vishnu Savara reportedly said when he was informed about 600 child deaths due to malnutrition in Maharashtra.
State tribal minister Vishnu Savara's casual response to a question about the death of 600 children allegedly because of malnutrition in Palghar district, just 100km north of Mumbai, has landed the politician in hot water. Savara's "let it be"' remark made twice in response to the deaths came during his visit to a grieving family in the district that had lost their 6-year-old son Sagar Wagh to malnutrition.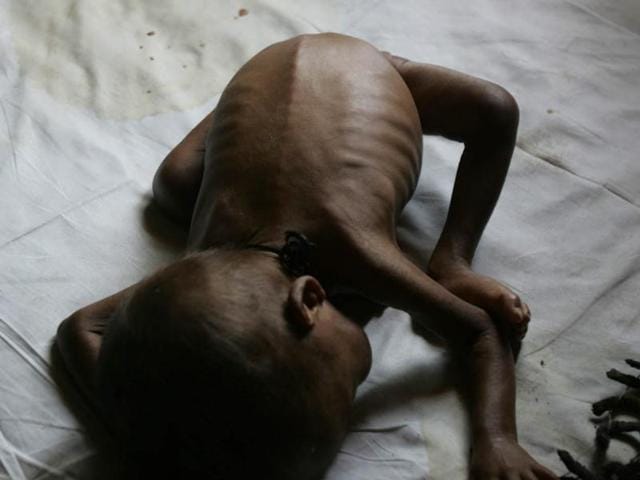 The remarks captured in a video clip went viral forcing chief minister Devendra Fadnavis to seek a clarification from the minister on the issue by evening. Savara clarified later that his response was only to silence some activists, who were not allowing him to speak with the family of the victims.
Savara, who belongs to the tribal community, is also the guardian minister of Palghar district. He had gone to console the family of Wagh, who died on August 30, but the family members had refused to meet him. In the ensuing argument, Savara also snapped at people surrounding him, saying they tend to argue too much over everything.
The tribal minister's statement came two days after governor CV Rao expressed his displeasure over the spurt in malnutrition cases in the state, especially in Mokhada tehsil of Palghar.
"How can I say such a thing when I myself belong to the same community and have been working in the area for more than 30 years," Savara told HT.
It is a political conspiracy hatched against me, he said.
The tribal affairs minister even claimed that malnutrition cases have reduced in the two years since the BJP-led government came to power. He said that until July this year, only 126 malnutrition deaths have been reported, while last year the number of deaths was more than double that. However, he could not confirm the exact number of malnutrition deaths that occurred last year.
In a clear blame game, the minister also stressed that the role of the tribal affairs department is only to provide funds for various schemes, while the actual responsibility to implement the schemes is of departments such as women and child development and public health.
The Opposition, however, is using the issue to attack the government, with both the Congress and the NCP demanding action be taken against Savara.
Sunil Tatkare, state NCP president, termed Savara's statement insensitive. "We condemn his remarks and demand action against him," Tatkare said.
Both leaders of Opposition, Radhakrishna Vikhe Patil and Dhananjay Munde, have now planned a visit to Palghar district on Saturday, indicating that this issue is far from over and will now be politicised.
Dr Deepak Sawant public health minister, who belongs to the Shiv Sena, also denied there had been as many as 600 malnutrition deaths, even though he admitted to a spurt in such cases. He said head injury, drowning and falling from tree, among others, were some of the reasons for the deaths in the district. "I am not a person who hides anything," Sawant said.