Maharashtra to build marine animal rescue centre along coast to reduce beaching
May 29, 2017 09:02 AM IST
The state has allocated Rs 1 crore to build marine animal rescue centres along its 720 km coastline – at Dahanu, Boisar, Palghar, Mumbai, Alibaug, Velas, Dapoli, Ratnagiri and Sindhudurg. These centres will also take care of marine animals that are found stranded along the coast
Recurrent marine animal deaths along the shore of Maharashtra has prompted the state to plan animal rescue centres in its coastal districts.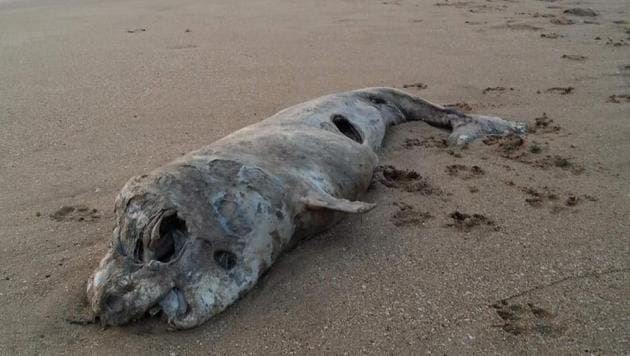 The state has allocated Rs 1 crore to build marine animal rescue centres along its 720 km coastline – at Dahanu, Boisar, Palghar, Mumbai, Alibaug, Velas, Dapoli, Ratnagiri and Sindhudurg. These centres will also take care of marine animals that are found stranded along the coast.
Since 2015, there have been 73 cases of carcasses of large marine mammals washing up along the coast. This year, 13 carcasses were found on Mumbai's beaches. In the last two years, carcasses of 60 dolphins, six whales and finless porpoises were found along the Mumbai and Maharashtra coast. Reason for most of the deaths are not known. There have also been instances when large mammals like whales got stranded on beaches and shallow creeks. The rescue centres will have trained personnel to rescue these animals and escort them safely into the sea.
"These centres will have a network of people working together to reduce marine animal beaching cases. Locals will be trained to assist these teams and will be sensitised about the importance of protected marine species," said N Vasudevan, assistant principal chief conservator of forest, state mangrove cell.
The mangrove cell, through its Mangrove and Marine Biodiversity Conservation Foundation, has allocated another Rs1 crore for the study of marine biodiversity issues along the Maharashtra coast. "A central research team will accumulate data, deploy qualified scientists and experts in necroscopy (examination of a dead body to determine the cause of death ), collect tissue samples from the animal's carcass for further research," said Vasudevan. "While the impact of climate change could be one of the primary causes, only a detailed study can reveal why there have been so many cases."
Experts said it was high time that such facilities were provided to safeguard the marine biodiversity. "Prior to this, there has not been any domestic funding to rescue or study marine animals in the state. It is a welcome step by the government," said Vinay Deshmukh, marine biologist and former chief scientist, Central Marine Fisheries Research Institute (CMFRI). "There have been a series of such cases, which is worrisome, and an allocation of Rs 2 crore will begin addressing the issue."
What's causing marine animal deaths?
While there is no conclusive proof for over 70 marine animal deaths over the past two years, there have been several speculations. HT takes a look at some of them:
-Pollution close to coastlines leading to extremely poor water quality
-Plastic trash at sea choking these species
-Injuries after being hit by large vessels at deep seas
-Climate change and sea level rise
-Lunar tides – marine animal beaching taking place during full moon and new moon nights after the tides recede
-Fishermen alleged that oil companies carrying out seismic surveys - seismic blasts from ships to the ocean floor to identify oil and natural gas – that disorient the communication pattern for marine mammals leading to accidents
-Marine animals getting caught at large nets close to the shore and deep sea
-Oil spills at dockyards and at deep seas choking marine animals
-Rise in sea surface temperatures pushing mammals closer to the surface of the ocean and then getting hit by large vessels
Major incidents of marine animal deaths in 2017
-May 6 to May 9: Decomposed bodies of two Olive Ridley turtles and one finless porpoise spotted at Juhu beach
-April 16: Decomposed carcasses of three Olive Ridley turtles were spotted at Vasai and Uttan beaches,
-April 15: A dead Indo-Pacific humpbacked dolphin was found at Bhuigaon, Vasai.
-April 14: Carcass of an Indo-Pacific humpbacked dolphin and an Olive Ridley turtle were spotted at Juhu and Versova, respectively.
-February 25: The carcass of a four-foot finless porpoise washed ashore at Bhuigaon beach, Vasai
-January 15: The carcass of a three-foot finless porpoise washed ashore, opposite Taj Hotel, Nariman Point in south Mumbai
-January 1: A five-foot dolphin carcass had washed ashore at Nariman Point. Mangrove cell officials said that the mammal had lost direction and hit a hard surface of a ship or rock several times.