Malnutrition claims another life at Palghar: 4-year-old weighing 10.7kg
Updated on Sep 27, 2016 02:00 AM IST
The Palghar district has reported a dozen malnutrition-related deaths in the past 30 days, with 7,200 children up to six suffering from severe malnutrition. Local residents have criticised the state for neglecting the region and this issue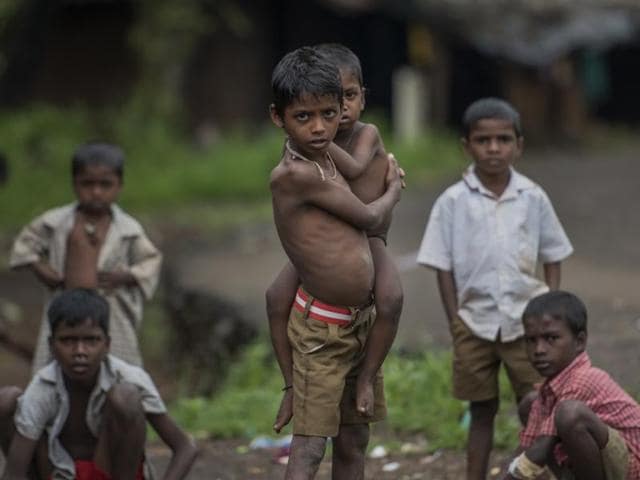 Hindustan Times |
, Mumbai
Ram Parmar
A four-year-old boy from Palghar died of malnutrition on Monday on the way to hospital, the latest in a stream of such deaths reported from the district in the past month.
Vedant Mahesh Madhvi was severely malnourished, weighing just 10.7kg. Vedant's family lives in Sonshiv Village in Wada. They rushed him to the rural hospital there after he developed breathing problems early on Monday.
Dr Pradeep Jadhav, the medical officer at Wada Rural Hospital said the child was brought in a critical condition, with breathing trouble, anaemia and severe loose motion. "We referred him to the Thane Civil Hospital, but he died before the family could reach him there."
The Palghar district has reported a dozen malnutrition-related deaths in the past 30 days, with 7,200 children up to six suffering from severe malnutrition. Local residents have criticised the state for neglecting the region and this issue.
A local activist claimed Vedant's name was not on a government list of malnourished children.
"It is shocking that there is no record of this child's illness," said the activist, who works with the Vithu Mauli Trust that had organised camps for malnourished children in Mokhada and Jawhar last week.
Vivek Pandit, a former MLA of Vasai and president of Shramjeevi Sanghatana said a permanent employment solution for the tribal population is the only solution.
HT tried to contact Vishnu Savra, the minister for tribal welfare and guardian minister for Palghar and Pankaja Munde, the minister for rural development and women and children welfare, but received no response.
Personalise your news feed. Follow trending topics