Man dies after oxygen cylinder sucked into MRI machine at Mumbai hospital, 3 arrested
Hindustan Times, Mumbai |
Megha Sood
Jan 28, 2018 09:24 PM IST
The man was accompanying a relative for an MRI scan at Nair Hospital when tragedy struck.
A patient's attendant was killed after he was pinned by a leaking oxygen cylinder to an MRI machine in a Mumbai hospital on Saturday evening.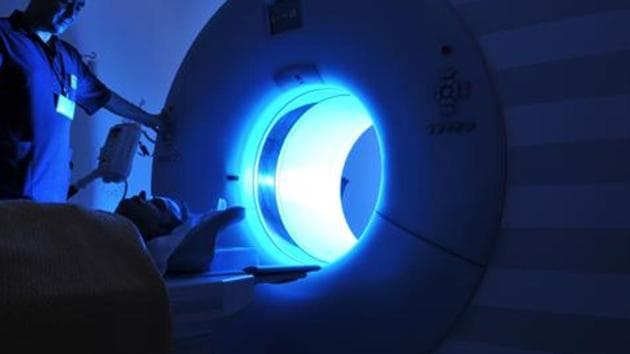 An autopsy said the 32-year-old Rajesh Maruti Maru inhaled poisonous amounts of liquid oxygen that leaked during frantic moments to pull him to safety after his hand was crushed between the cylinder and the machine that should not have been switched on at the time.
MRI, or magnetic resonance imaging, machines are equipped with magnets so powerful that metallic objects like paper clips can turn into lethal projectiles if kept close by.
The Agripada police arrested Nair Hospital's resident doctor Saurabh Lanjrekar, ward boy Vitthal Chavan and Sunita Surve on Sunday over charges of causing death due to negligence.
The police are now recording the statements of eyewitnesses and the other staff to find out whether more staffers were involved in the accident.
According to officials, Maru — a garment salesman — and his brother-in-law Harish Gopal Sonkhi had taken Maru's mother-in-law to the hospital at 7.30 pm on Saturday. They patient was on a stretcher and they entered the MRI suite with an oxygen cylinder after being told by doctors to do so, they said.
Savalaram Agavane, senior police inspector of Agripada police station said that the incident happened when they were shifting the patient to another stretcher. The MRI machine pulled the iron cylinder into the tunnel, trapping Maru's arm inside.
As the ward boy and Sonkhi tried to pull Maru free, his fingers were severed. "A tube of the oxygen cylinder too got disconnected from the cylinder and it began leaking. Maru inhaled a huge amount of oxygen due to which he fell unconscious," said Agavane.
Maru's was then rushed to the ICU where he succumbed a few hours later.
The police registered a case based on the complaint filed by Sonkhi.
The police officers said that Sonkhi blamed the hospital staff, including a cleaning woman, for keeping the MRI machine switched on in presence of metallic objects. "We are finding out the exact sequence of events that led to the accident," added Aganvane.