Maratha stir: Dalits fear return to 'old days'
Published on Oct 17, 2016 12:25 AM IST
With the unprecedented mobilisation of the Maratha community in the past few days, Dalits in Marathwada fear a return to the "old days", when there was no act protecting them and caste conflicts within Marathwada were constant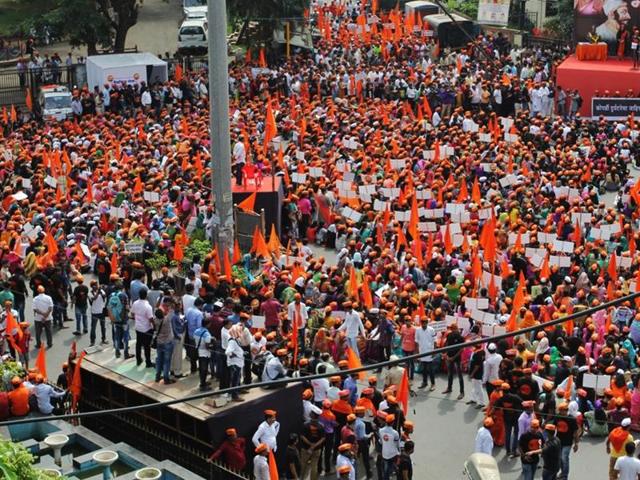 With the unprecedented mobilisation of the Maratha community in the past few days, Dalits in Marathwada fear a return to the "old days", when there was no act protecting them and caste conflicts within Marathwada were constant. Case in point: The recent tensions that flared up between Dalits and Marathas in Pune and Nashik. The fear has also prompted the Dalits and OBCs to organise massive rallies to counter the dominant Maratha community.
On Wednesday, tensions flared up in Pune's suburb Lohegaon, after arguments broke out between two groups over a dandiya event, in which vehicles were damaged. Last week, two Dalits approached the Bombay high court saying their community was attacked and boycotted by "upper-caste Marathas" after caste tensions flared up following an alleged sexual assault on a five year old. In their petition, Babytai Shinde and Sahebrao Pawar said a mob of around 50 men ransacked houses in a Dalit basti in Nashik.
While Pune and Nashik were witnessing violence, prominent Dalit writers Raosaheb Kasbe and Pradnya Pawar were forced to apologise and leave a Marathi literary meet at Patan in western Maharashtra after a group of more than 100 youth created a disturbance for "hurting the sentiments of the Maratha community." These youngsters, according to Kasbe and Pawar, were objecting the references to Chhatrapati Shivaji and caste discriminations from upper caste Marathas made during the speech by the authors. "The mob was not even aware of what I said in my speech," said Kasbe.
These incidents may have been isolated in nature, but according to scholars , they were the unintended consequence of a show of strength by the Maratha community . "What happened at Nashik was a fallout of growing assertiveness of the Maratha community. It has created fear in the minds of Dalits, " said Arjun Dangle, another Dalit writer.
According to economist and former Rajya Sabha MP Bhalchandra Munagekar, the ongoing mobilisation of Marathas, which has given a cue for others to galvanise their community, may create unrest in the state.
"What we are seeing at Nashik and elsewhere may be similar to the situation when many Dalits had become victims of atrocities during the renaming of the Marathwada University," said Munagekar, a Dalit. Former police officer Sanjay Aparathi said, "Maharashtra is witnessing a polarisation of two sections. The consequence of it is communal clashes."
The Maratha movement has also triggered the mobilisation of Dalits and OBCs, who have started organising their own rallies.
On Sunday, they took to the streets at Nanded demanding strict implementation of the Atrocity Act and opposition to Maratha reservation. Another scholar Hari Narke said, "The show of strength by Marathas has opened the fault lines between the upper caste and the Dalit-OBCs. It threatens to disturb the harmony established in the state by social reformers
Close Story
Personalise your news feed. Follow trending topics