Mishap averted: Motorman spots metal piece on CST-Kalyan fast line
Published on Jan 26, 2017 12:29 AM IST
This comes in the wake of two major train accidents in which the railways are suspecting sabotage by organised groups.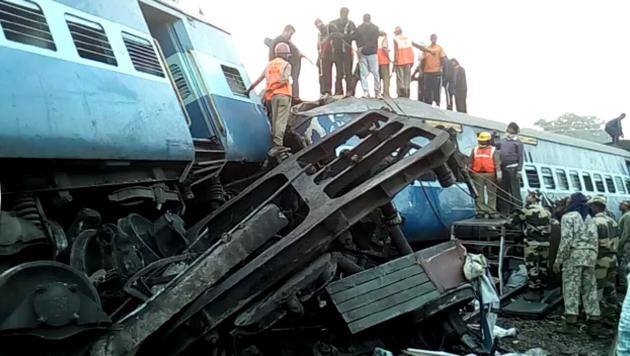 Hindustan Times |
, Mumbai
Prajakta Chavan
A major disaster was averted on Tuesday night, when the motorman of an express train found a 7-metre long piece of railway track placed diagonally over the fast line from Chhatrapati Shivaji Terminus (CST) to Kalyan, near Diva station.
This comes in the wake of two major train accidents in which the railways are suspecting sabotage by organised groups.
At 10.40pm on Tuesday, the motorman of 12052 Madgaon-Dadar Jan Shatabdi Express — that was running on the CST-Kalyan fast line — spotted the rail track on the fast line a few meters before Diva railway station. He immediately stopped the train and informed the railway control authorities.
Tracks of that type are usually used for maintenance purposes and the railway authorities are suspecting this to be an act of some organised group.
"The track is so heavy that five people are required to lift it so it has to be the work of a group of individuals. A case has been registered with government railway police (GRP) and we are investigating all angles including an attempt to sabotage train operations," said DK Sharma, the general manager of Central Railway (CR).
Over 50 lakh people daily use the CR, this includes 40 lakh suburban and 10 lakh long distance commuters. If undetected, the stray track could have easily jeopardised safety of thousands of train passenger travelling in Madgaon-Dadar express.
The incident occurred at 10.40 pm, while at 10.23 pm a CST-bound Karjat local had just crossed the spot. "This clearly shows that the stray track was kept on the fast line within 17 minutes which means that the accused were present near the tracks," said Atul Srivastava, the chief security commissioner (CSC), Central Railway (CR). He added, "Also, some commuters reported seeing four to five people near the tracks around the same time. But we will be able to tell whether this was an act of mischief or an organised crime only after the investigation is over,"
Meanwhile, railway authorities believe that the derailment of the Jagdalpur-Bhubaneswar Hirakhand Express — which left 41 passengers dead and 50 injured on Saturday night — was caused by sabotage.
This was the third serious rail accident in two months and had taken place in Andhra Pradesh's Vizianagaram district, near the Odisha border. The region is a Maoist stronghold.
The latest mishap may cause a major concern for the Rail Bhavan as authorities are already investigating suspected ISI-Naxal involvement in the last two derailments — that of Indore-Patna Express on November 20 in which 151 people were killed and the Ajmer-Sealdah Express on December 28 in which 63 people were injured — both near Kanpur.
Also read: Hirakhand Express derailment death toll rises to 40