MMRDA conducts monorail trial on Wadala-Jacob Circle stretch
Updated on Jan 27, 2017 08:37 PM IST
The trial was kept quiet fearing criticism in case of failure or a technical glitch.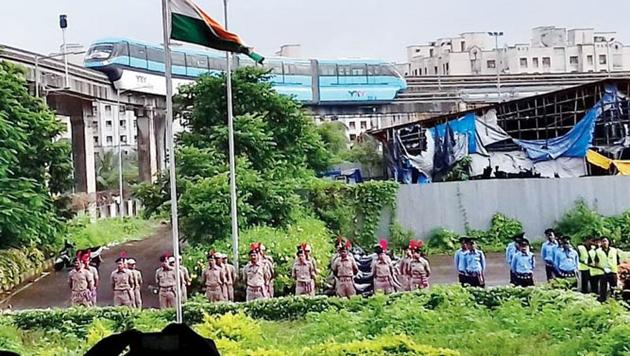 With Phase-II of the monorail nearing completion, the Mumbai Metropolitan Region Development Authority (MMRDA) carried out a 10.6-km trial run successfully, on Republic Day.
The much delayed second phase of the project is expected to be commissioned by May.
This is not the first time that the MMRDA has carried out a trial run away from the public glare. Last year, on Independence Day, a 3-km trial run was carried out between Wadala and Acharya Atre Nagar. According to MMRDA officials, besides the model code of conduct being in force, the trial was kept quiet fearing criticism in case of failure or a technical glitch.
"We carried out a trial run on the entire stretch between Wadala and Sant Gadge Maharaj Chowk of Phase-II on January 26 and it was successful," said Sanjay Khandare, additional metropolitan commissioner, MMRDA. Phase-II of the project will connect south Mumbai and the eastern suburbs.
Khandare added that some of the technical issues that plagued the country's only monorail have been resolved. The conductor rail, which powers the monorail, had dislocated on the stretch and has now been fixed. "The two track-changing switches that were lying with the Customs department for two years, have been brought and installed," Khandare said.
He added that the civil construction of Phase-II is nearly complete. "The approaches and exits of the stations are pending; rest of the civil construction is complete. We will finish it by February first week. According to MMRDA officials, regular trials on the stretch will start by February.
The commissioning of the entire corridor up to Sant Gadge Maharaj Chowk (Jacob Circle) is crucial for financial viability of the project. Phase-II passes through dense areas and would cater to more people, thus increasing the ridership. MMRDA is expecting that the number of passengers would go up from 18,000 per day to 1.20 lakh, once the second phase is commissioned.
Read
MMRDA wants new contractor to run monorail, invites bids
Residents want to rename Dadar (East) monorail station to 'Vitthal Mandir'