MMRDA to tap Metro car depots to generate revenue
Updated on Dec 22, 2016 12:29 AM IST
Officials will utilise plots at Dahisar (East) and Charkop, which will house car depots for the Metro 7 and Metro 2A corridors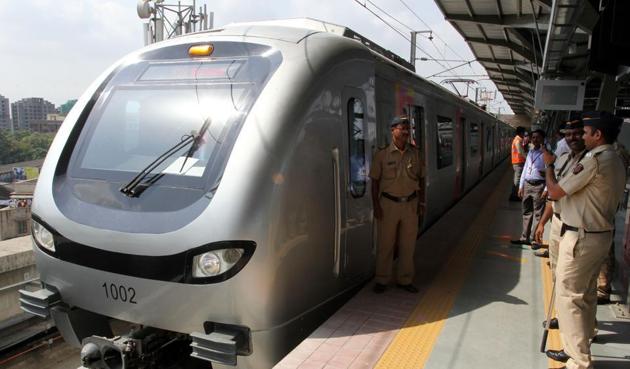 In a bid to generate non-fare revenue from its Metro rail projects, the Mumbai Metropolitan Region Development Authority (MMRDA) is planning to tap Metro car depots. The regional planning authority will conduct a detailed study on how to commercially utilise these plots.
The authority had initially explored the option of commercially utilising the Metro stations, which was later dropped. Senior MMRDA officials said that initially, they were planning to utilise plots at Dahisar (East) and Charkop, which will house car depots for the Metro 7 and Metro 2A corridors. Apart from the 48-hectare plot at Charkop and the 26.30-hectare plot at Dahisar (East), the MMRDA will also explore plots where depots for Metro 4 and Metro 5 will be housed.
A double-decker car depot can be constructed in about 20 hectares. "The rest of the area can be utilised to construct commercial establishments," a senior official added. The official said the MMRDA will decide upon commercial establishments depending on the area.
"We are planning to commercially utilise car depots to aid revenue generation," said Pravin Darade, additional metropolitan commissioner, MMRDA. A senior official added that the estimated revenue generation from these plots will be determined once a plan is in place.
Meanwhile, the MMRDA is looking at immediate and long-term measures to raise funds as the estimated cost of its projects is higher than the funds they have. The MMRDA has planned 124-km of metro corridors at a cost Rs61,289 crore, which it will partly fund. "If the plan to commercially utilise the Metro stations was successful, the MMRDA wouldn't have needed to take loans. Currently, the MMRDA is funding civil construction to kick-start the projects. The idea to exploit the depot land is essential to generate revenue, either at one go, or over a sustained period," said an official, who did not wish to be identified.
Where have the car depots been planned?
Charkop - A 118.61-acre plot has been allotted for the Metro 2A (Dahisar-DN Nagar) corridor. Dahisar (East) - A 65-acre plot on the Western Express Highway has been allotted for Metro-7 (Dahisar East-Andheri East) corridor. The MMRDA will commercialise the car depot for the proposed Lokhandwala-Jogeshwari-SEEPZ corridor, the Wadala-Ghatkopar-Thane-Kasarvadavali corridor and Thane-Bhiwandi-Kalyan corridor
The agency also plans to utilise the Colaba-Bandra-SEEPZ (Metro 3) corridor for commercial purposes
The Mumbai Metro Rail Corporation, the implementing agency for the 33.5-km underground Metro corridor is preparing a concept plan to commercially utilise plots at SEEPZ and MIDC in Andheri (East). It expects to earn around Rs300 crore from the commercialisation of these plots.
Read
Mumbai metro: 8-coach trains for Colaba-Bandra-Seepz corridor
Mumbai Metro and MTHL: Grand plans for launch, but no funds
Modi to put Metro lines on track at Rs1.41-crore function in Mumbai