More than 1,000 illegal structures on mangrove area in Mumbai razed
Jun 27, 2017 10:09 AM IST
A massive operation is underway to remove encroachments from Mumbai's protected mangrove forests before the monsoon.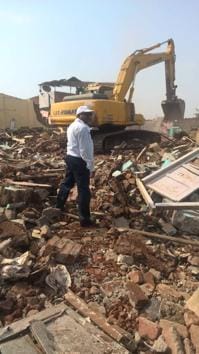 On Saturday, after a four-day demolition drive at Cuffe Parade, 1,296 illegal structures were removed from a 7.6- hectare reserved mangrove forest area. Encroachments on 11 other locations spread across 15 hectares – Kamaraj Nagar in Kandivli, Chedda Nagar in Chembur, Wadala, Chitta Camp in Trombay, Gorai, Marwe, Vashi, Borivali and Dahisar — are expected to be removed from Monday. The drive will be completed on May 31. After the debris are cleared from the site, mangrove saplings will be planted to restore the forests.
"The idea is to protect the city's coastline, ecosystem and ensure flooding does not take place during this monsoon season. These encroachments have come up with the help of the builder mafia and local politicians," said Makarand Ghodke, assistant conservator of forest, Mumbai Mangrove Conservation Unit. "We faced problems from various politicians during the demolition drive between Wednesday and Friday but all shanties have been cleared up."
Between 2005 and 2016, illegal shanties, hutments, galas and even commercial structures were built within the mangrove patch in south Mumbai. HT reported had reported on Friday that more than 20 acres (8 ha) of mangrove forests have been destroyed through debris dumping at Charkop, Kandivli, over the past seven years with 3,000 encroachments on mangroves forests, including private land.
The destruction of mangrove forests across the state and construction within 50m of mangrove areas was banned by the Bombay High Court in 2005, after a public interest litigation (PIL) was filed by the NGO Bombay Environment Action Group.
Experts said that encroachments have been built by builders with support from politicians. "Mumbai lost approximately 3,500 hectares of mangroves over the past decade due to these encroachments eating into our mangrove cover. While the coastal ecosystem has natural restored some of the lost mangrove cover, there is a need for constant vigil to stop this menace," said Arvind Untawale, Arvind Untawale, executive secretary of the Mangrove Society of India.
Meanwhile, soon after the Cuffe Parade demolition, local residents filed a writ petition in the Bombay high court (HC) on Saturday evening seeking interim relief as they alleged that prior notice was not given to the residents of the shanties by the state. However, the Bombay HC denied them the interim relief stating that the shanties had illegally encroached on protected mangrove forests.
Independent corporator from Colaba, Makrand Narvekar,said that the matter was heard at the court and said that prior notice was given to the shanties almost two years ago. "More than 5,000 people are homeless because of this destruction. While it is good that mangroves will be restored the demolition should have been done in a humanitarian way," said Narvekar.
Read
Mumbai lost 20 acres of mangrove forests to debris in 7 years, made way for encroachers