Mumbai Elphinstone Road stampede: Time to bridge the gap between promises and reality
Published on Sep 30, 2017 01:09 AM IST
While Parel and Elphinstone stations see rapid rise in number of commuters, a much-needed infrastructure makeover moves at a snail's place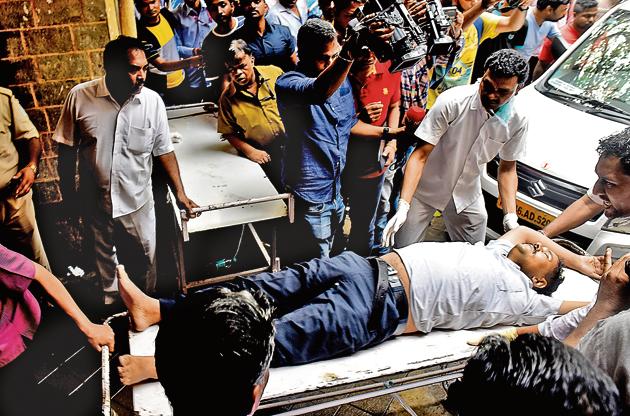 Hindustan Times |
, Mumbai
Kailash Korde
A 2012 plan to revamp Parel railway station suggests that authorities were very much aware of the problem of overcrowding there and at Elphinstone Road station, both connected by a foot overbridge (FOB).
On Friday, a rush-hour stampede during a sudden downpour killed at least 22 people and wounded 37 others on Friday at the Elphinstone Road station. This happens sixteen months after former railway minister Suresh Prabhu laid the foundation stone of Parel terminus.
The work is progressing at a snail's pace and except for a 150m long platform structure, you will not see any other change. Besides that, an old structure adjacent to the common FOB has been razed.
It has also come to the fore that Prabhu had sanctioned another 12-m wide FOB between CR and WR and there was also a plan to extend Elphinstone station platforms by 100m on the north end, in 2016. But authorities have not yet begun work.
The makeovers were aimed at reducing crowds on the platforms and the FOB and according to authorities, the terminus was set to be completed by March 2019.
With central Mumbai emerging as a new business hub, the number of commuters at Elphinstone Road and Parel stations is only going one way. Both stations together have a daily footfall of more than 3 lakh passengers.
According to sources, the daily ticket sales at Parel have gone up by 80% and 50% at Elphinstone since 2006. Another reason of overcrowding is that many Mumbaiites prefer to switch between CR and WR —Parel and Elphinstone — whenever to avoid crowds at Dadar station, which is a junction. Several educational institutions and hospitals like KEM nearby also contribute to the extremely huge footfall.
The Rs51- crore Parel terminus is part of an ambitious Rs924-crore Kurla-CST 5th and 6th line project under phase two of Mumbai Urban Transport Project. It includes widening the existing platforms by 10m; construction of an additional 15-car island platform adjacent to the existing platform number one with double discharge facility. This would reduce the burden on the common FOB.
Subhash Gupta, an activist, said the issue of the work's slow progress had been raised in a recent meeting of the Divisional Railway Users Consultative Committee last week and authorities had been warned that a tragedy was waiting to happen. "In the meeting, we had warned authorities that the crowd situation had gotten worse at Parel and they should take some immediate steps for avoiding any tragedy," said Gupta. He also demanded a probe into a delay of starting work on the 12-m wide FOB.
In 2012, railway authorities had built a north-end FOB at Parel station to ease pressure on the south end, but hardly any passengers use the 34m-long bridge as they consider it a detour.