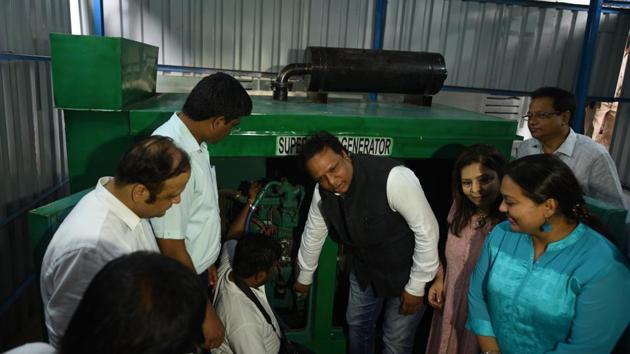 Mumbai's Pali Hill is set to light up its streets using bio-waste
Electricity worth Rs8 lakh to Rs10 lakh is being generated now at no cost to the BMC
Hindustan Times | By Geetanjali Gurlhosur
, Mumbai
UPDATED ON MAY 07, 2018 11:39 AM IST
In a first, a locality in Bandra is set to power it's streetlights with electricity generated from household waste. Pali Hill residents have installed a waste-to-energy converter with help from the Brihanmumbai Municipal Corporation (BMC) and MLA Ashish Shelar.
The anaerobic digestion technology can convert one metric tonne of the locality's bio-waste into about 160 units of energy. Set up in a 100sqm area, the converter will be used to power around 76 LED lights on the streets.
One of the city's upscale localities, Pali Hill started its zero-garbage project in 2016 with an aim to minimize the waste going to the dumping ground as well as create cost-efficient energy. For the same, a bio-gas plant was set up at Pali Hill water reservoir.
The move has also reduced the amount of organic waste generated by a total of 78 housing societies and 23 bungalows in Pali Hill. "After we initiated waste segregation with BMC's solid waste management department, the amount of garbage has decreased from 2.2 metric tonnes per day to 800kg," said Madhu Poplai, secretary of the Pali Hill Residents' Association (PHRA).
"Electricity worth ₹8-10 lakh is being generated now at no cost to the BMC. An additional ₹3 lakh that was being spent on garbage transportation annually, will now be saved," said Shelar.
"The residual waste will be converted into manure and distributed to Pali residents free of cost. We will also be using it for organic community gardening," Poplai added.
Assistant municipal commissioner Sharad Ughade said that the BMC is willing to support such initiatives by citizen groups to promote decentralized waste management.
The city produces around 7,200 metric tonnes of waste every day, of which only 3,200 tonnes is processed. BMC aims to cut down on its waste generation to 500 metric tonnes by June and simultaneously increase processing capacity by installing more organic waste converters.
Close